More than 100 companies already benefit from additional business space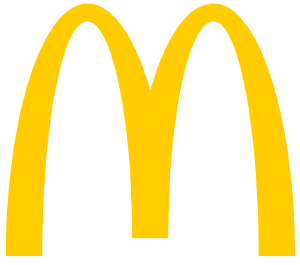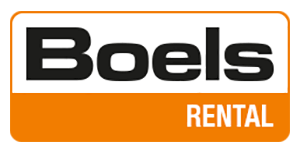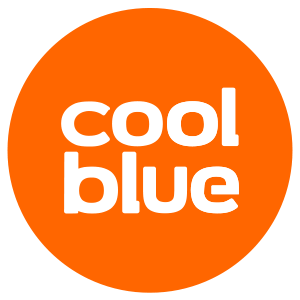 Have extra space available in no time
Having enough working or storage space is essential to keeping your business running. Lack of space shouldn't be the reason for any loss in profit!
Fast-growing businesses often quickly run out of space, for instance, by not having enough space to house their staff or too little room to keep stock or install machines. But this can also include business premises that are temporarily inaccessible due to fire damage or renovations. In both cases, you want to have additional space as quickly as possible to keep your business running. A tent hall is a quick and easy business solution!
It has several advantages compared to more permanent construction solutions. It is easier, quicker and cheaper. As with permanent structures, you require a permit to place a temporary tent hall, except a permit for a tent hall has a shorter turnaround time because of its temporary nature.
Donselaar Structures knows exactly what you need, thanks to their 14 years experience setting up temporary tent halls. Moreover, we are highly flexible because we have the entire process in-house, from design to assembly. This makes it possible to construct tent halls entirely to your needs, including windows, lighting, electric doors, etc.
What are you waiting for? View our tent halls and start expanding your business!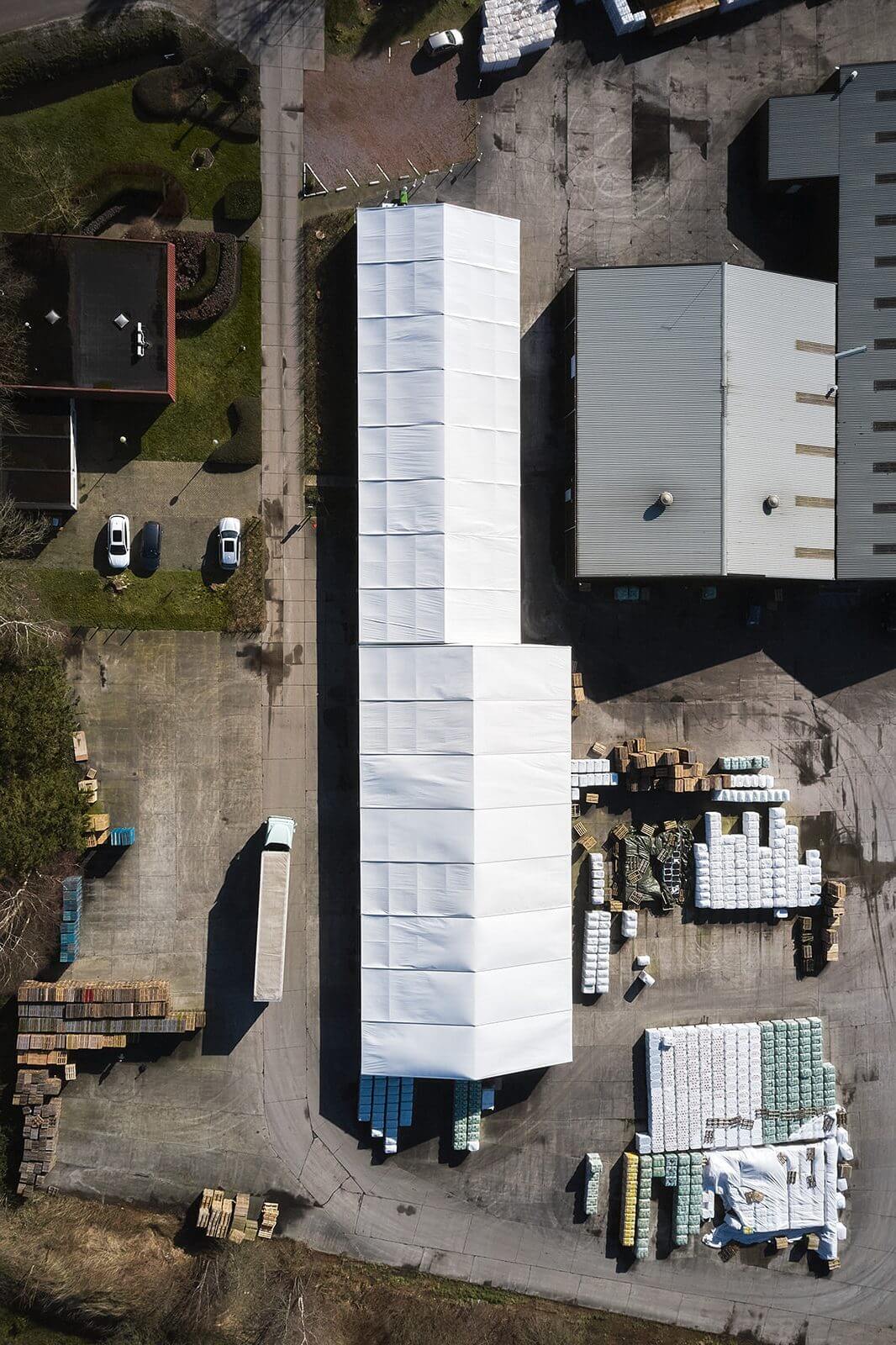 Why Donselaar Structures?
On-site personal advice
We can offer you the best advice by visiting your location in person.
20,000 m2 tent halls in stock
Most of our tent halls are readily available from our extensive stock.
Purchase, rental or lease
Rent a tent hall for up to 15 years. Purchasing or leasing options are also available.
We arrange assembly and breakdown
Our tent construction team will construct your tent hall in no time at the location of your choice.
SCC (VCA)* and ISO-9001 certified
Our qualified staff works safely with clear-cut working processes.
Fast permits
Because of the temporary nature of the tent hall, a permit can be arranged in no time.
0
years experience in the tent industry
tents, flexible structures and storage spaces installed
9,0
rating from our customers for service and quality
Proven success of a tent hall
"Good company that can deliver and switch quickly."
Henk Haaksema – Solarcentury
"Thanks to fast and clear communication with a good price, we decided to rent this storage tent from Donselaar Structures. After the agreed assembly, a neat storage tent was delivered."
Matthijs van Vliet – HSK Prefab
"We needed a storage tent very urgently to accommodate an extra production run. I was very pleased with the way I was treated by Donselaar Structures and I was surprised by the very fast delivery and installation. Top!"
Dennis Spierings – Knauf
The right tent hall for every situation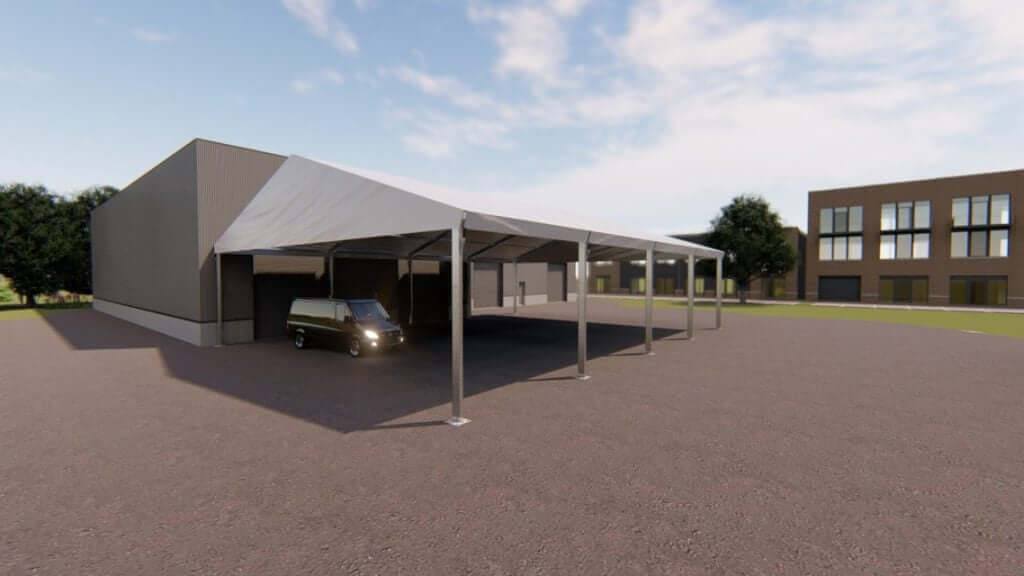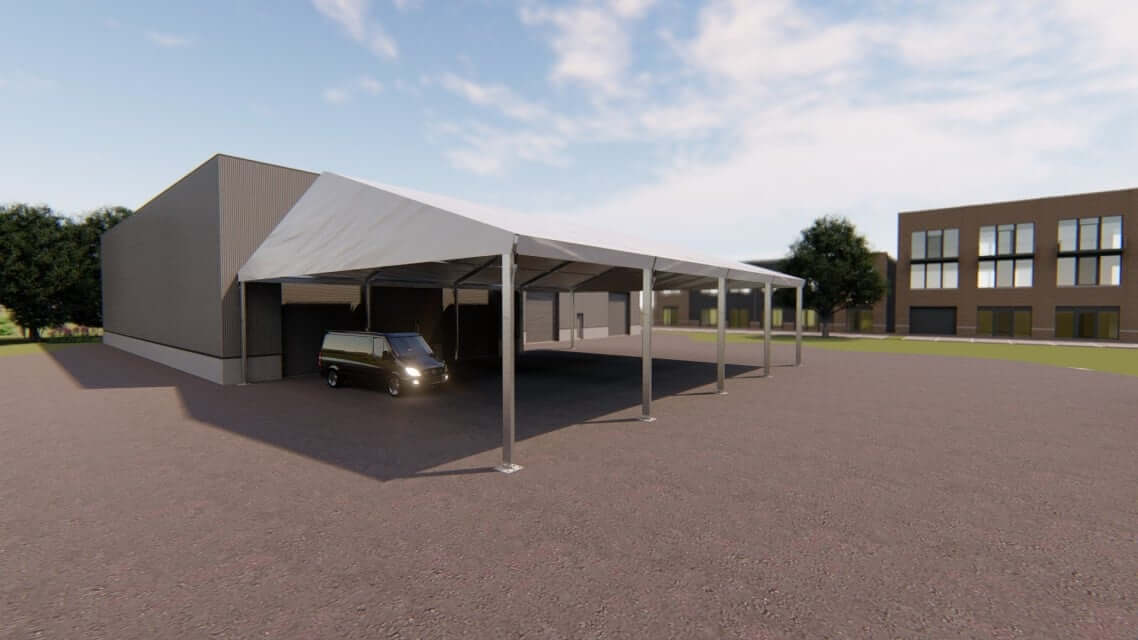 T1 Roofed
Always load, unload, and carry out warehousing activities under a dry roof with our T1.
With its side height of 4.5 meters, trucks and trailers can easily fit through the T1 door.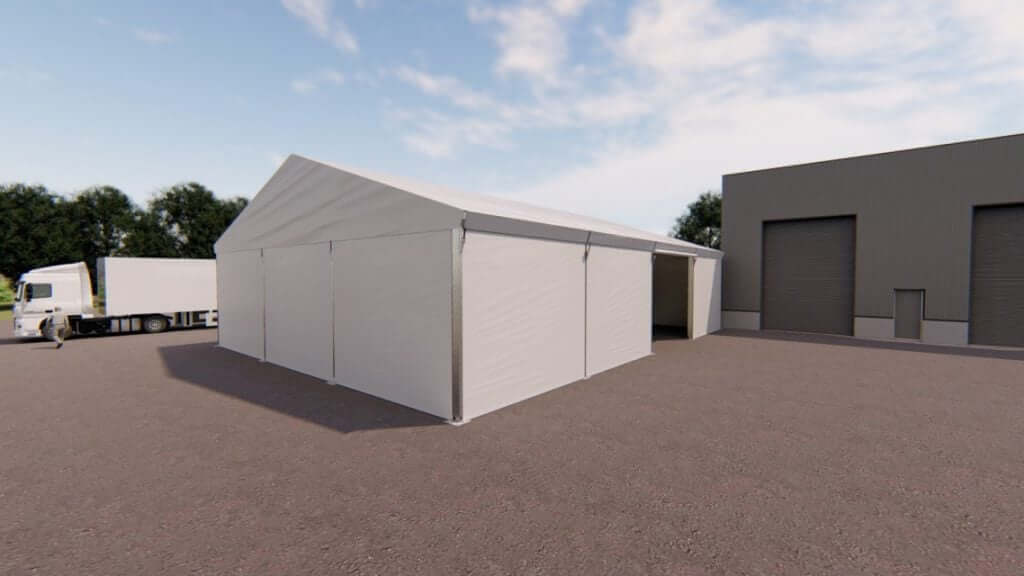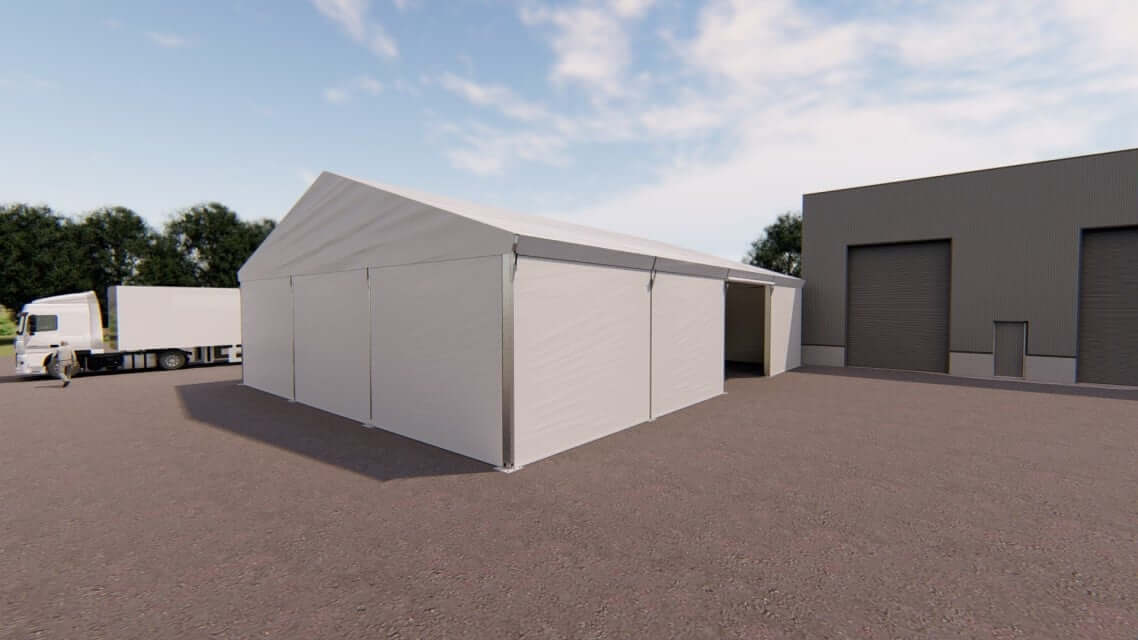 T2 Non-insulated
Do you want to store goods that are not temperature sensitive or want to work out of the wind and rain? Choose the T2.
Its sturdy roof and robust, secure side panels provide protection from the weather.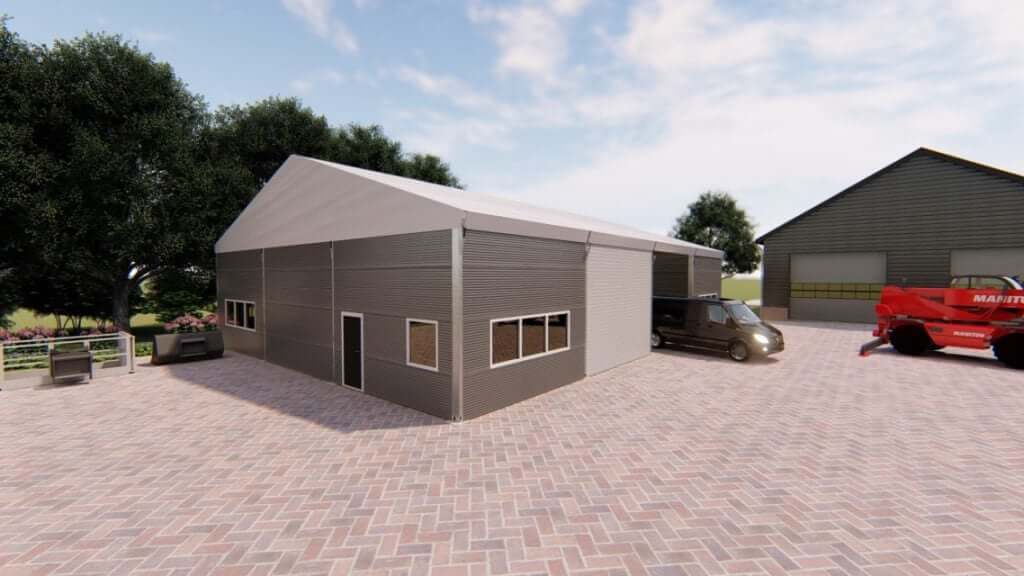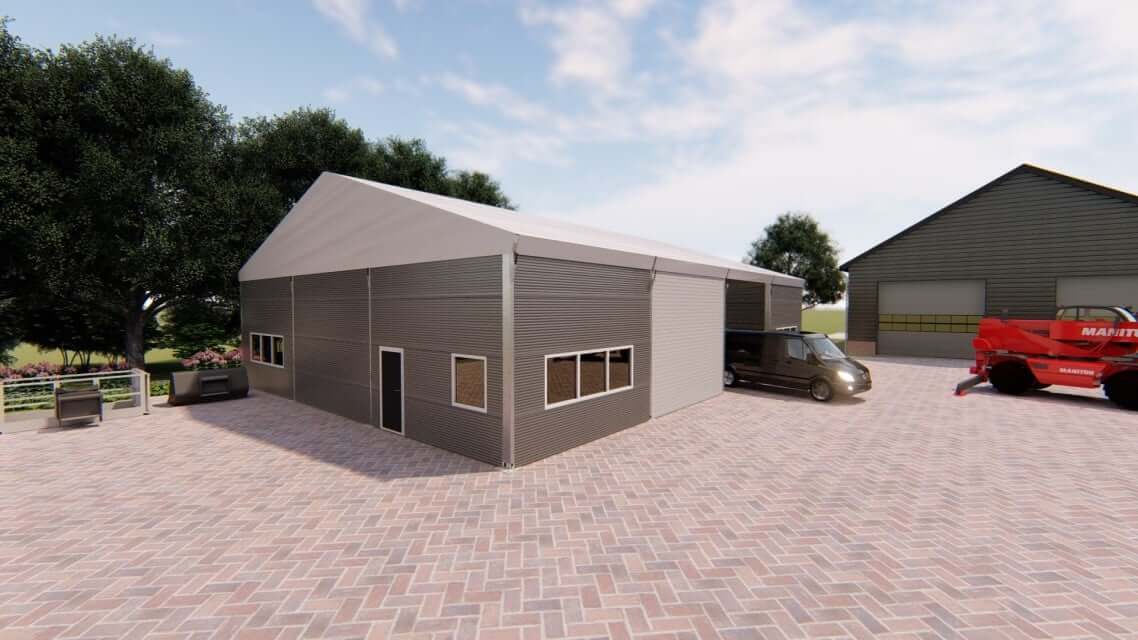 T3 Partly insulated
The T3 is ideal for expanding sales areas or protecting goods and machines.
This tent hall can easily be sealed off with its sandwich side panels.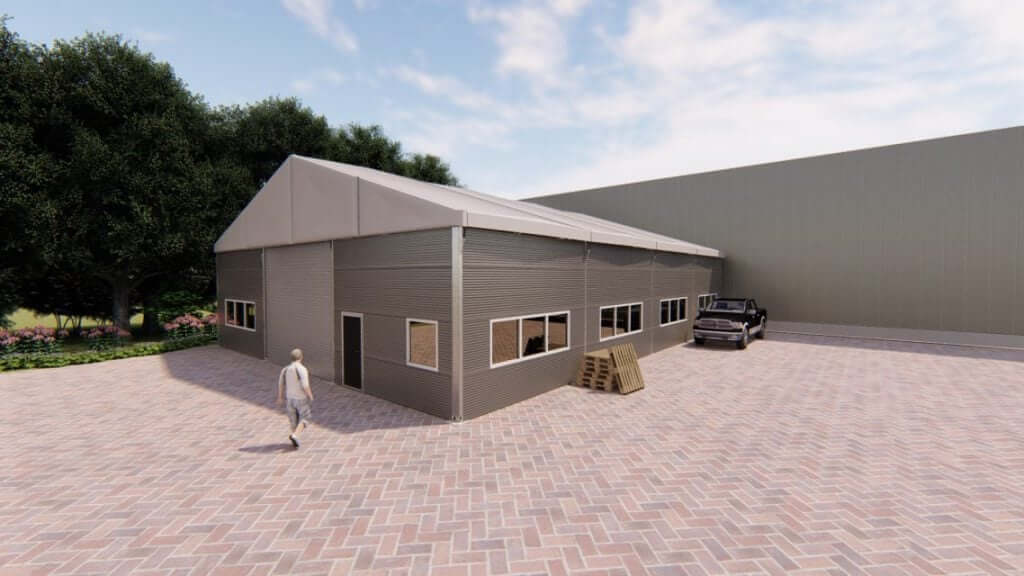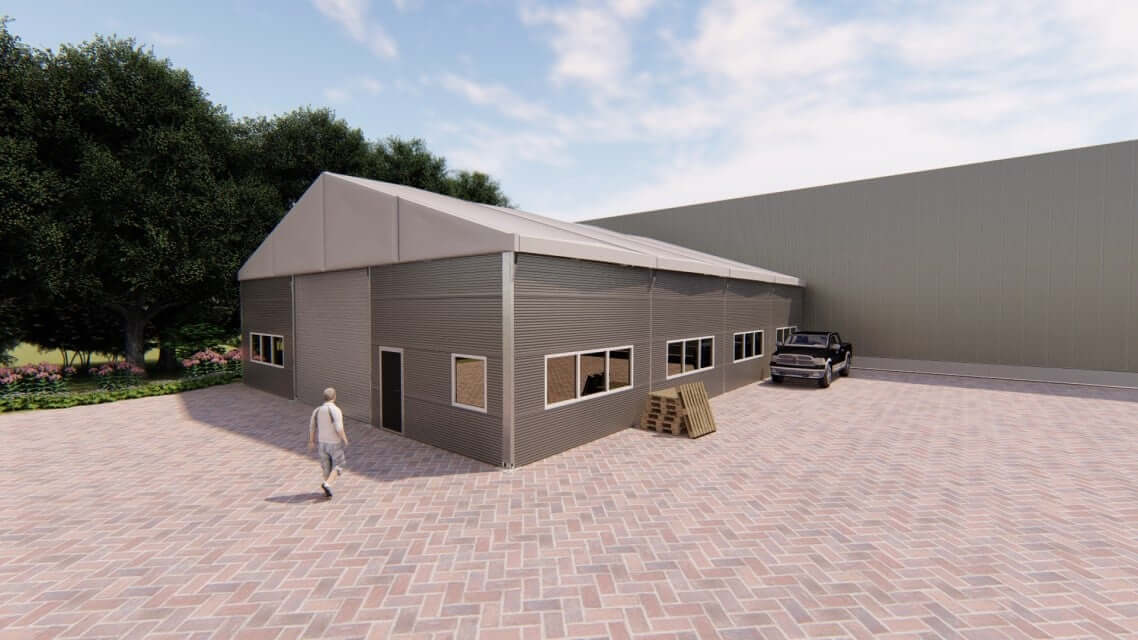 T4 Fully insulated
With the T4, condensation water is no longer an issue, making it perfect as a temporary office space.
The fully insulated T4 is also suitable for storing temperature-sensitive goods.
T5 Flexhal semi-vast
De uitstraling van een permanente hal en flexibiliteit van een tenthal. Dat is de T5.
Door het tijdelijke karakter is de doorlooptijd van een vergunning veel sneller en makkelijker te regelen.
Frequently asked questions
Ja, voor een tenthal heb je een vergunning nodig als deze langer dan 30 dagen blijft staan. Dit is dezelfde vergunning als bij permanente bouw, alleen is de doorlooptijd vaak korter en is het eisenlijstje minder streng. Doordat de tenthal een tijdelijk bouwsel is, is het gemakkelijker om de vergunning rond te krijgen. Wij helpen je met de documentatie die je nodig hebt voor de vergunningsaanvraag. Denk aan technische tekeningen, een tentboek en eventueel aanvullende documentatie als dat nodig is!
Wanneer je definitief akkoord gaat met onze offerte én de vergunning hebt geregeld komen we op locatie op bezoek om alles tot op de laatste millimeter in te meten. Wil je liever dat we eerder langskomen? Laat het weten, dan komen we langs om je een passend advies te geven voordat we de offerte opmaken.
De duur van de opbouw verschilt per tent. Het heeft vooral te maken met de grootte van de tenthal. Een tent van 10 bij 15 meter is bijvoorbeeld in één dag op te bouwen, maar een grote tenthal van bijvoorbeeld 60 meter lang en 20 meter breed zal meerdere dagen in beslag nemen. In de meeste gevallen is de tenthal binnen een week opgebouwd of als het om meerdere tenten gaat binnen twee weken.