Work tent by Donselaar Structures
The solution for lack of space
There are many reasons why you could use a work tent. Lack of space is the most common reason. We often see companies growing fast and temporarily needing extra business space to bridge a period. A work tent can also be put to good use as a replacement workspace in case of emergencies. Building extra business space takes a long time and often costs a lot of money. Therefore, a tent is a good and quick solution.
Advantages of a work tent:
More economical than permanent construction
Can be fully customised and extended as required
Temporary and semi-permanent use
Standard profiles available from stock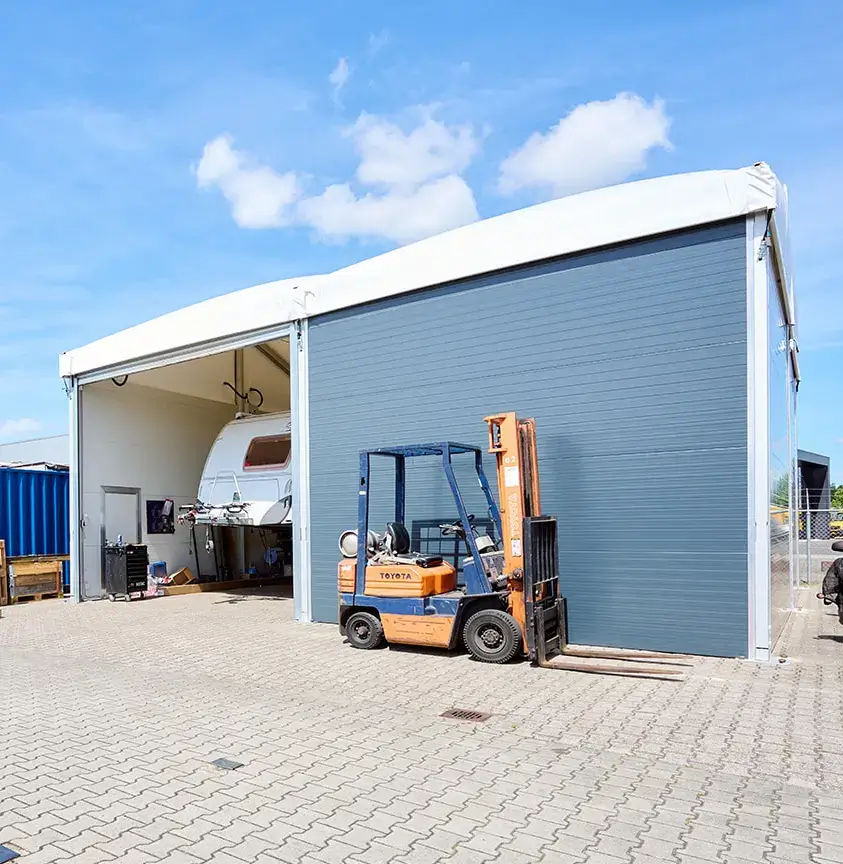 More than 100 companies already benefit from additional business space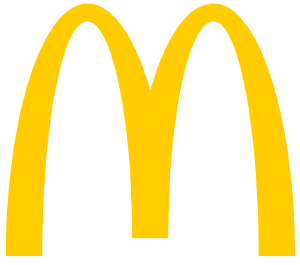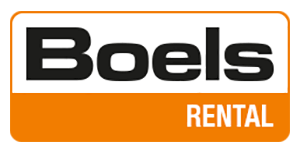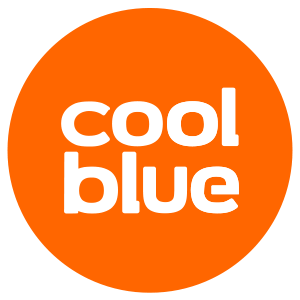 Onze werktenten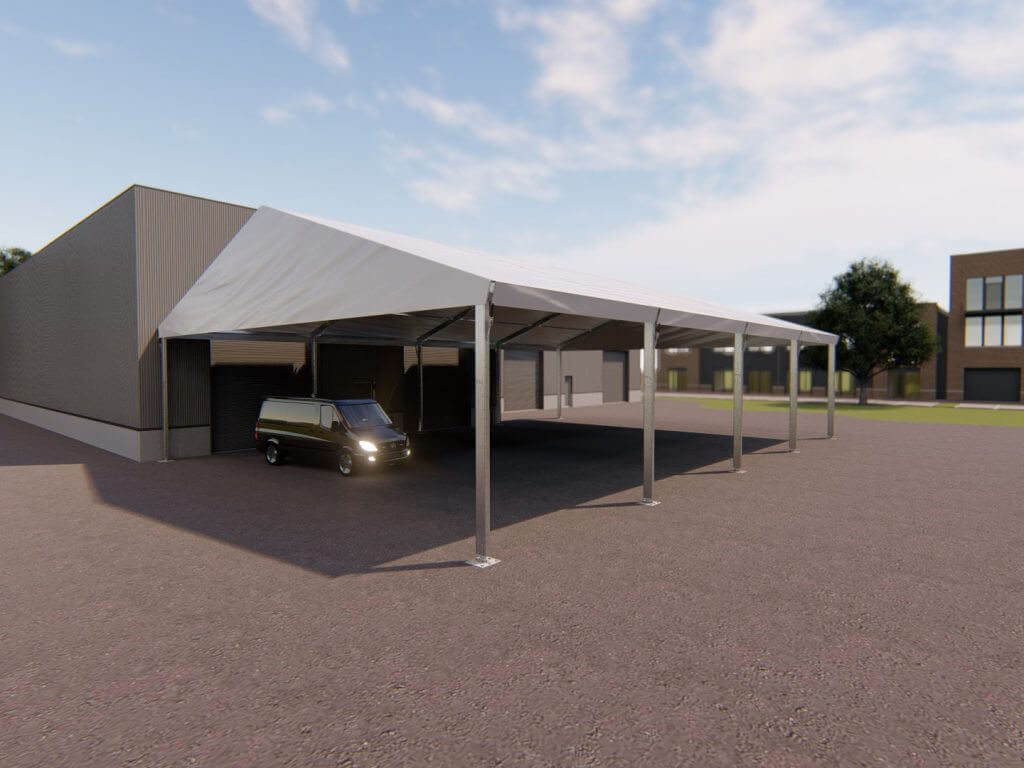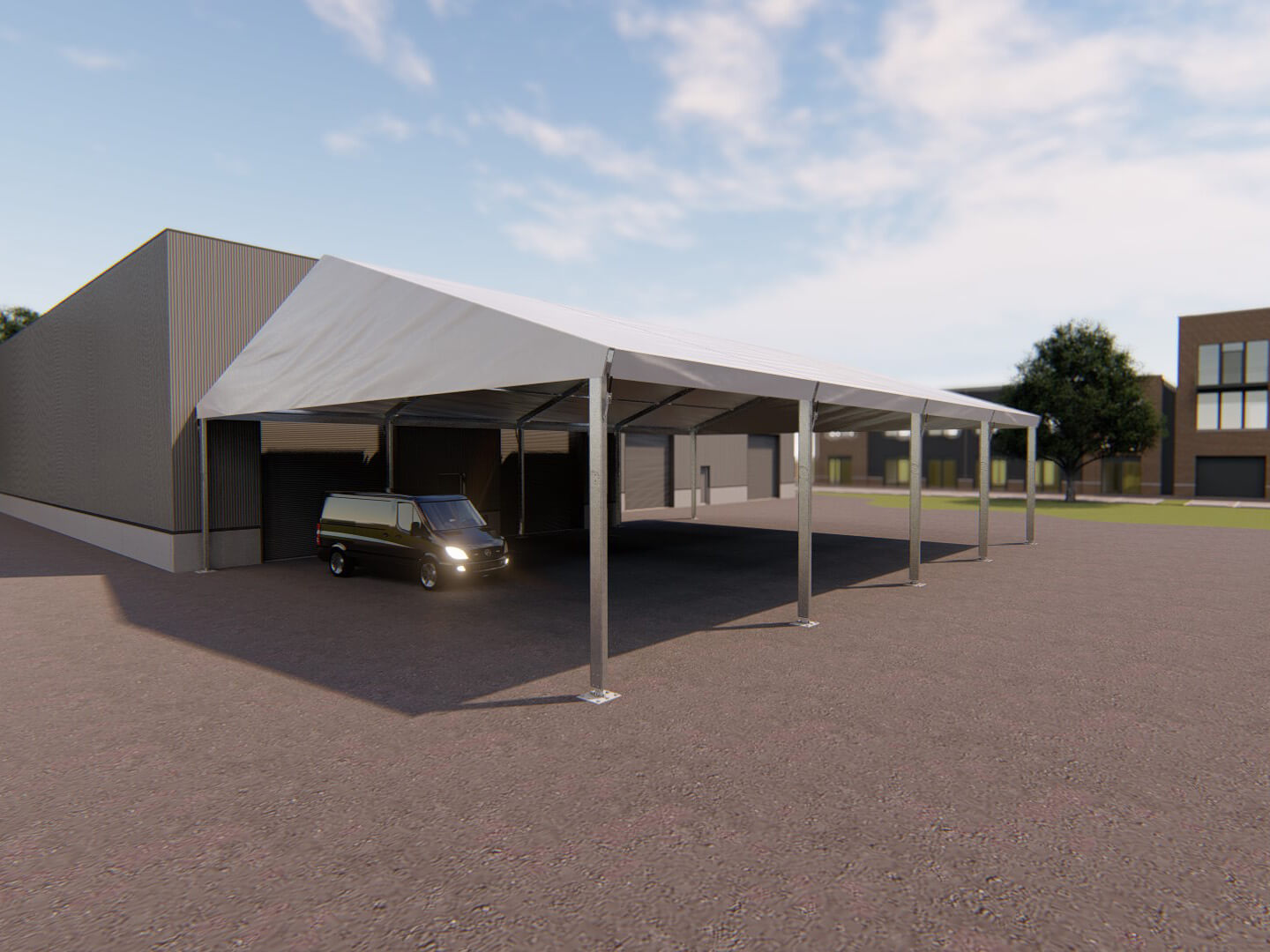 T1 Roofed
Always carry out dry loading, unloading, and operations with our T1.
With a side height of up to 4.5 meters, trucks and trailers can easily pass under the T1.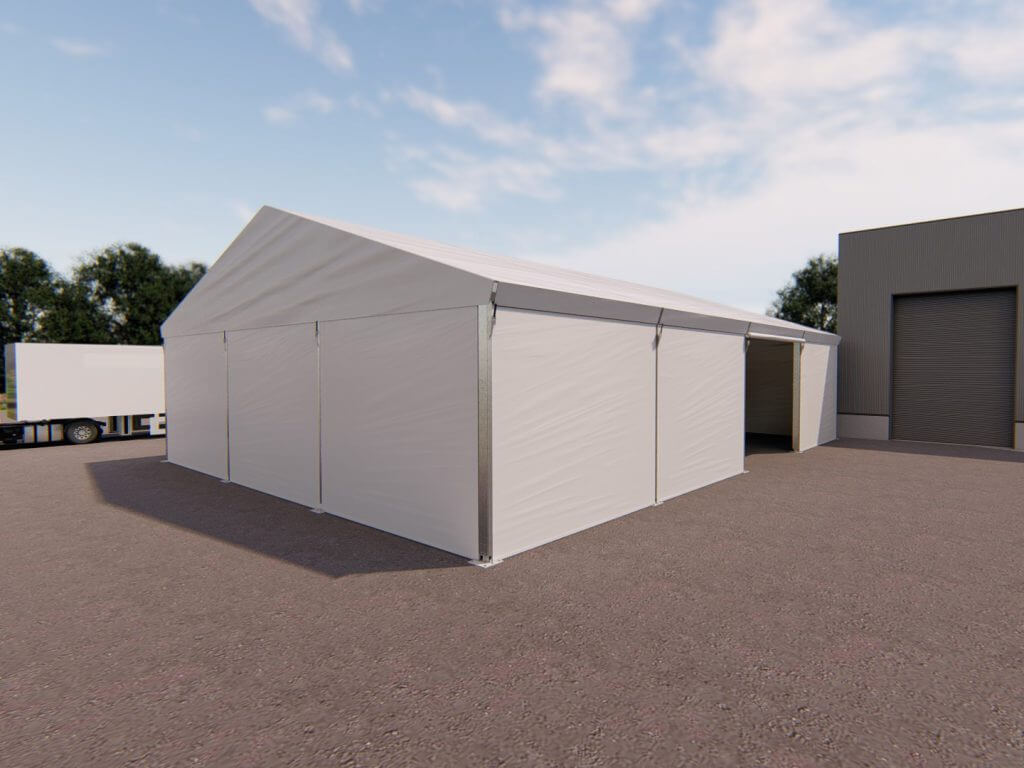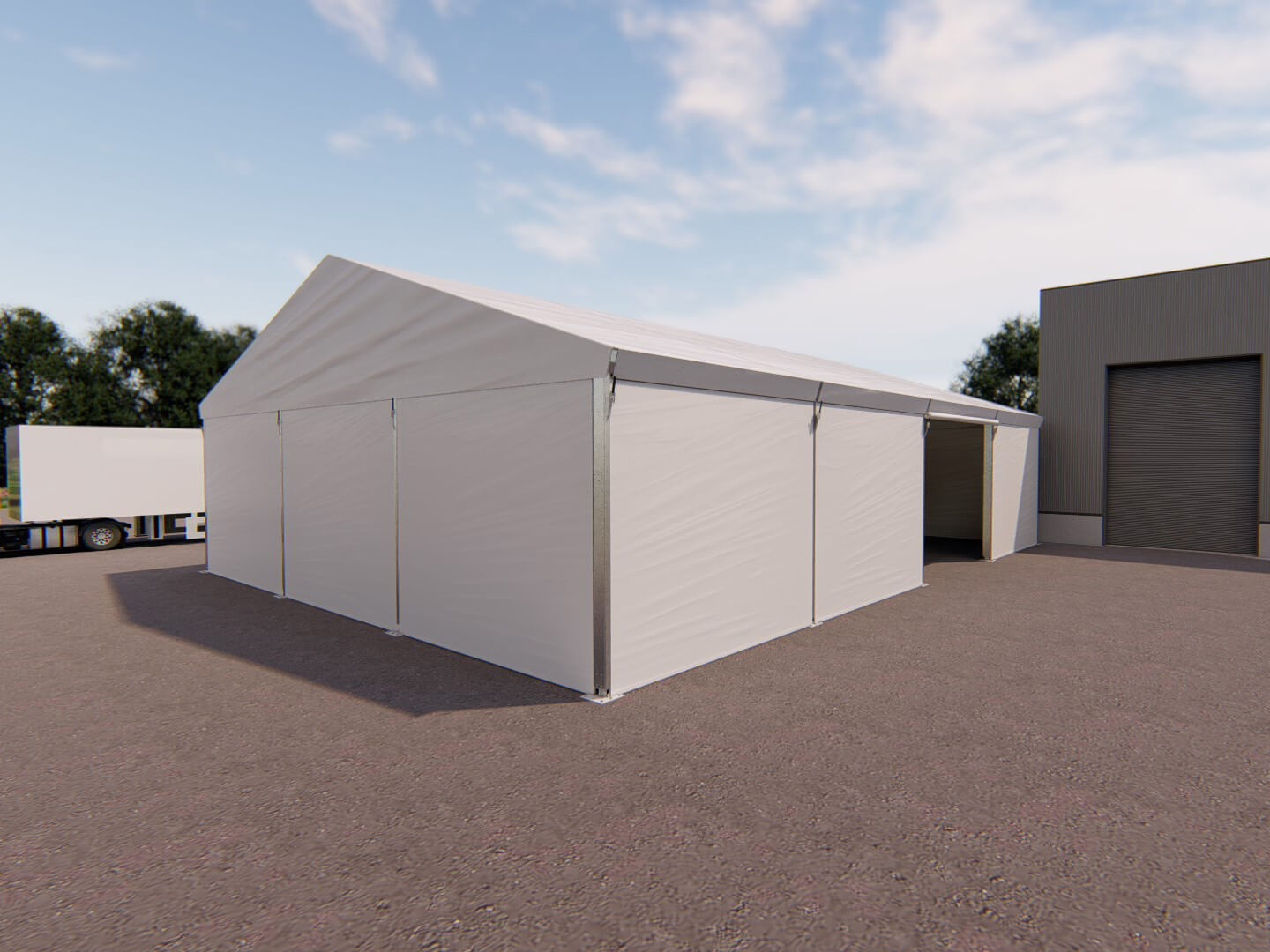 T2 Non-insulated
Do you want to store goods that are not temperature sensitive or want to work out of the wind and rain? Choose the T2 non-insulated tent hall.
Its sturdy roof and robust, secure side panels provide protection from the weather.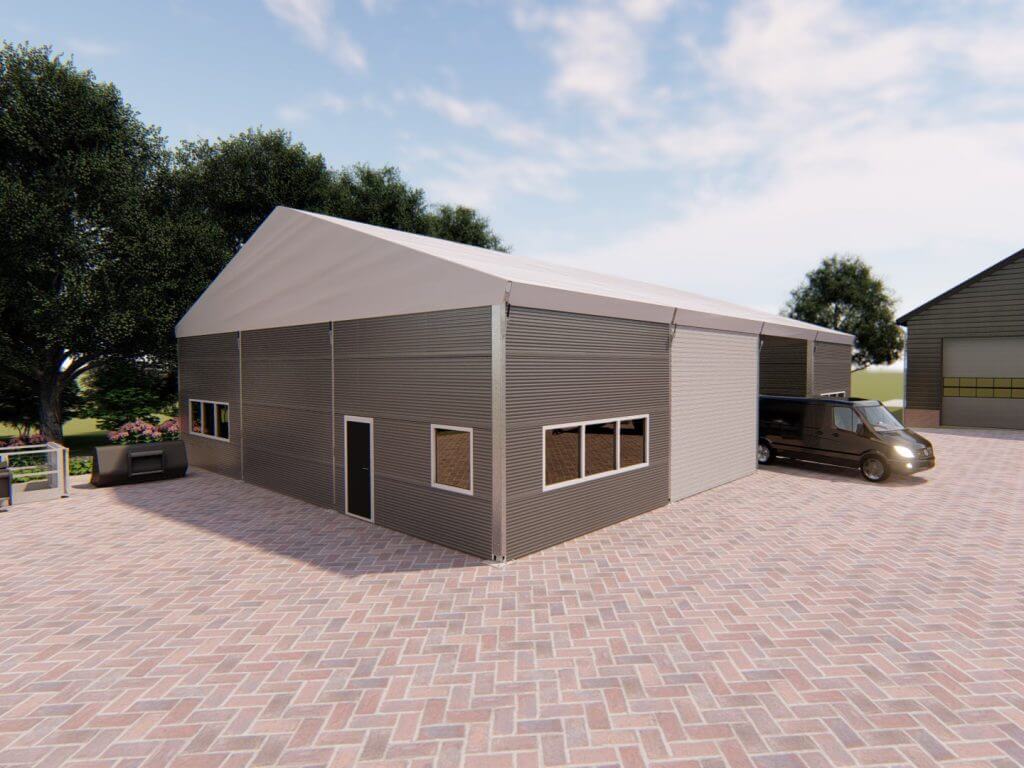 T3 Partially insulated
The T3 is ideal for expanding sales areas or protecting goods and machines.
This tent hall can easily be sealed off with its sandwich side panels.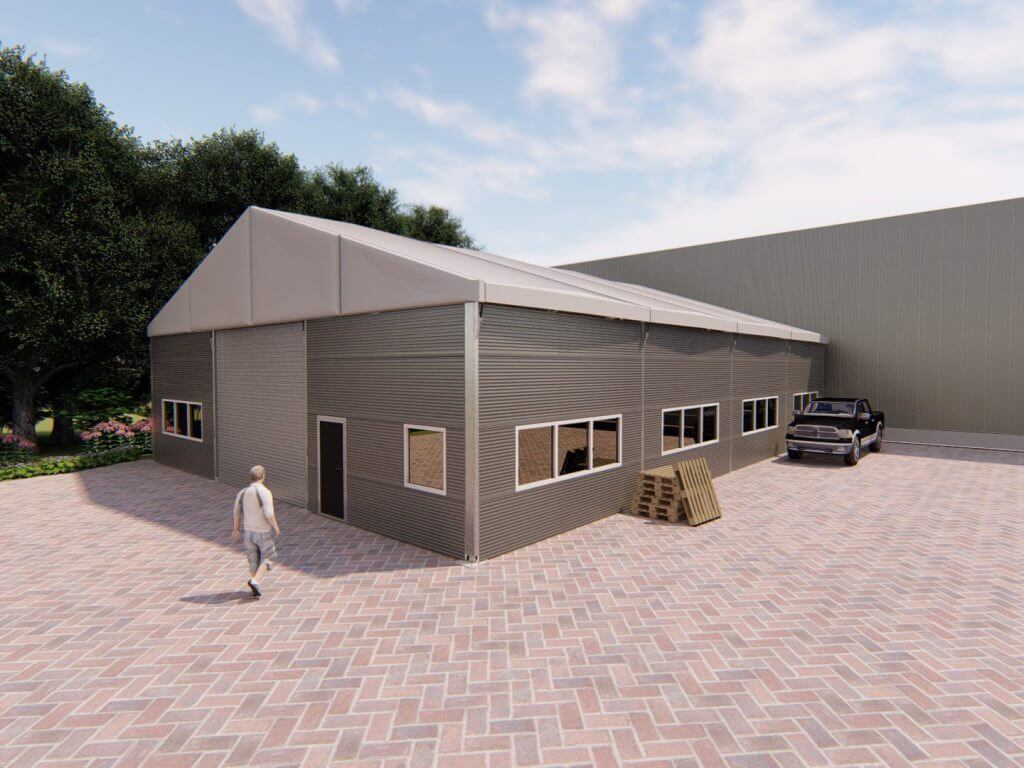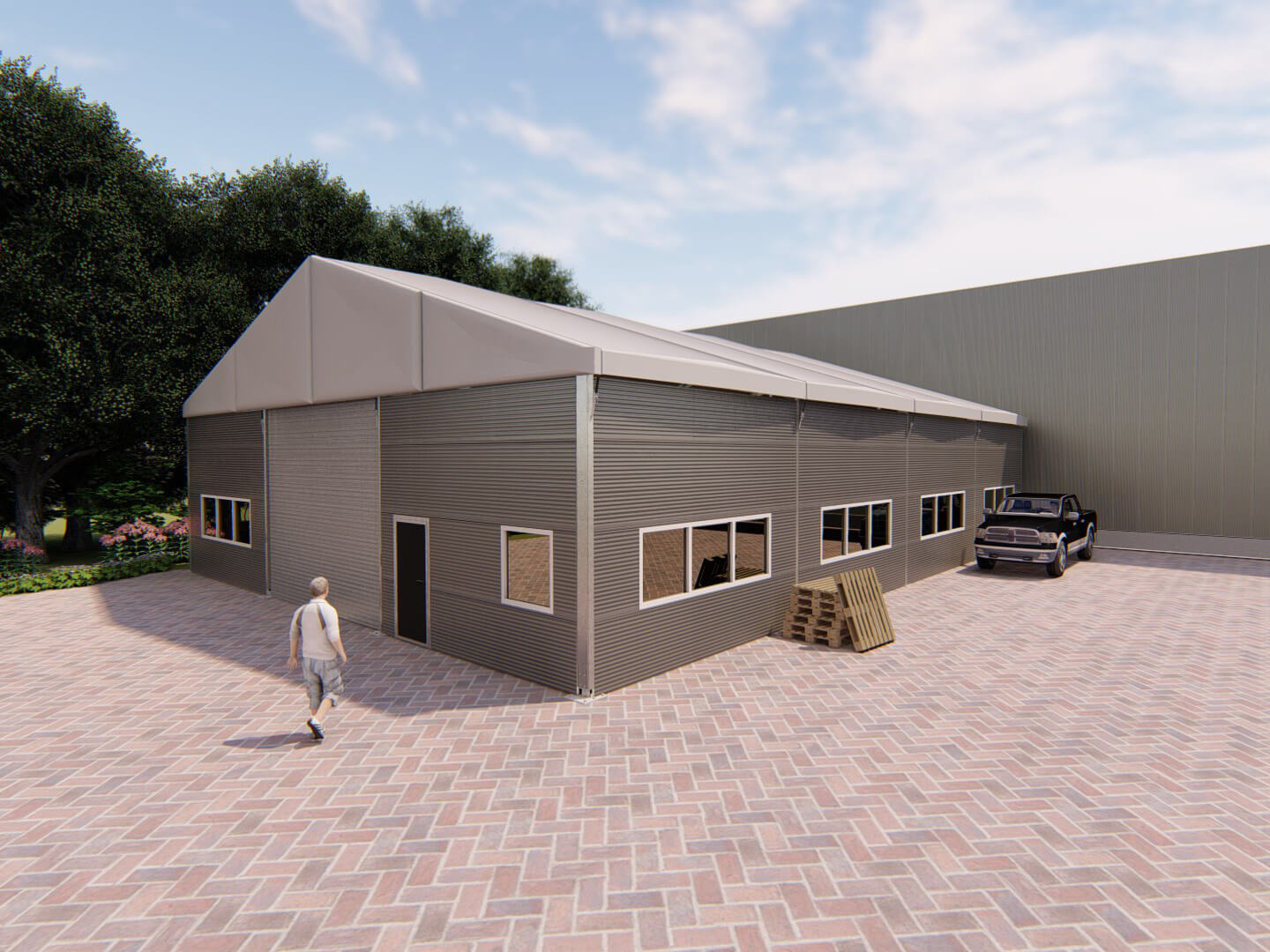 T4 Fully insulated
With the T4, condensation water is no longer an issue, making it perfect as a temporary office space.
The fully insulated T4 is also suitable for storing temperature-sensitive goods.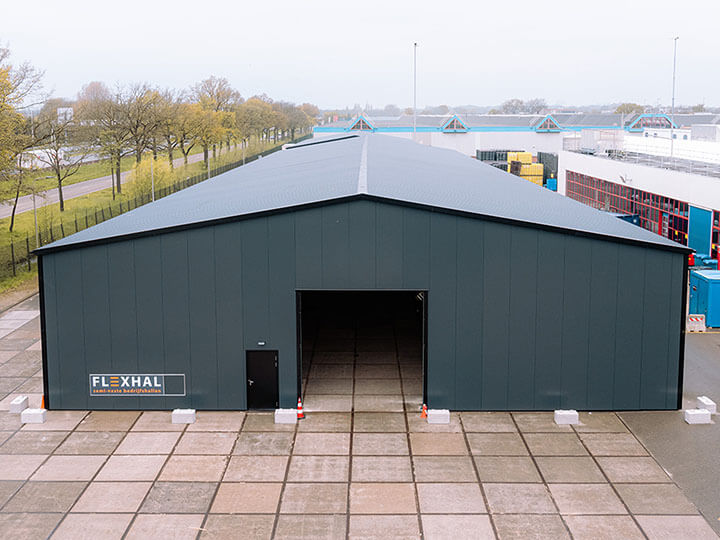 T5 Flexhal semi-permanent
The look of a permanent hall and flexibility of a tented hall. That's the T5 Flexhal.
Its temporary nature makes the lead time for a permit much quicker and easier to arrange.
Choose the right tent for your business situation
We have different types of tent halls. From a canopy to a fully insulated steel tent hall. Which type of tent hall you need depends on what you are going to use the space for. Are you going to use it as a showroom or office? Then we recommend an insulated tent, because then you can create a pleasant working environment. Do you want to store goods that are not temperature-sensitive? Then an uninsulated tent is often sufficient.
Still have no idea which type of tent suits your needs and requirements? Feel free to contact our account managers for personal advice.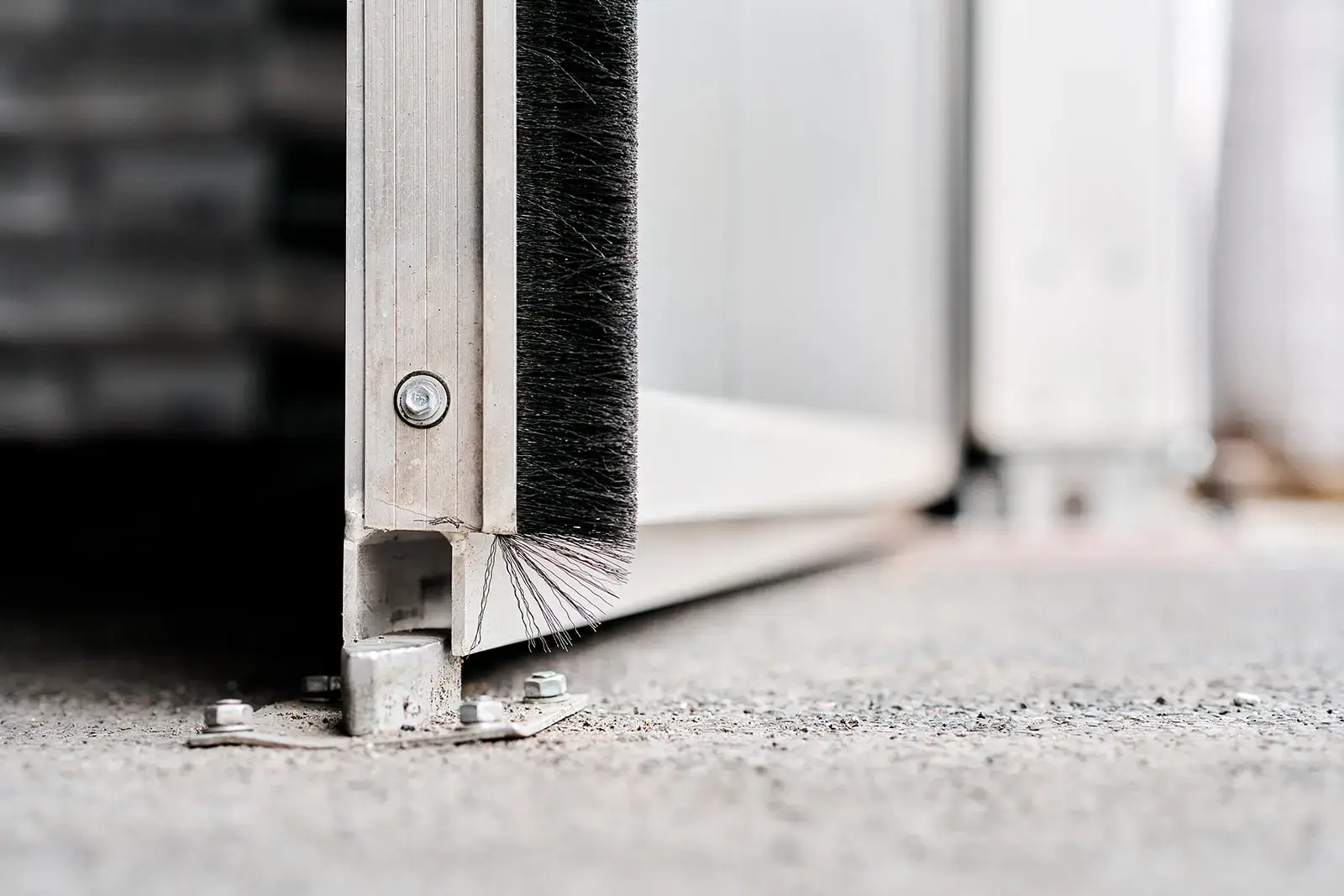 0
years experience in the tent industry
tents, flexible structures and storage spaces installed
9,0
rating from our customers for service and quality
A standard work tent or fully custom-made?
We have our standard tent profiles in stock and can therefore deliver quickly. Do your requirements call for more customisation? Then that's no problem either! Think of additional options such as special doors, different dimensions or the use of other materials. Fortunately, we have short lines of communication with our tent manufacturer, enabling us to respond quickly.
Why choose
Donselaar Structures?
On-site personal advice
We can offer you the best advice by visiting your location in person.
20,000 m2 tent halls in stock
Most of our tent halls are readily available from our extensive stock.
Purchase, rental or lease
Rent a tent hall for up to 15 years. Purchasing or leasing options are also available.
We arrange assembly and breakdown
Our tent construction team will construct your tent hall in no time at the location of your choice.
SCC (VCA)* and ISO-9001 certified
Our qualified staff works safely with clear-cut working processes.
Fast permits
Because of the temporary nature of the tent hall, a permit can be arranged in no time.
Proven success of a tent hall
"I recommend Donselaar Structures to everyone; price-quality, speed of action and communication is perfect."
Paul Verwegen – Foreco Houtconstructies
"I experience the collaboration with Donselaar Structures as pleasant, customer-oriented and pragmatic. A neat solution was delivered for us in a short time."
Mark Kleinloog – Tanis Confectionery
"We have achieved what we had in mind in a short period of time and that is only possible if the cooperation runs smoothly!"
Arie van den Broek – Van Ginkel Trucks
These
companies

have gone before you!
Rent, buy or lease
Renting
Renting a work tent is a good option if you need it temporarily. We rent our tents from six months to 15 years. Up to a rental period of 2 years, it is advantageous to rent. Do you want to use the work tent for longer? Then it is smart to still look at the buy or lease option.
Buy or lease
Do you want to use and/or own your tent hall for longer than 2 years? Then buying or leasing the tent is an interesting option. Don't want to make the full investment in one go? Then financial lease is the best option for you.
Request your quote now! We will always send you the corresponding costs of your work tent for renting, buying or leasing. This way, you can compare all options and make the best decision.
Work tent of the highest quality
A work tent is used intensively, so good quality is very important. All our tents comply with the European established fire and safety requirements. In addition, they are approved according to DIN standard 4102B1 and you receive a tent booklet with every tent. This booklet contains all structural calculations and technical information.
Our assembly staff who erect and dismantle the work tents are all VCA certified. This allows us to guarantee that the tents are erected and dismantled properly and safely.
Quotation for your work tent
Curious about what we can offer your company? You can request a no-obligation quotation for a work tent. You are not yet committed to anything, but you will receive a good price indication of all your requirements. Need more information first? Our advisers are available on working days between 08:00 and 17:00 for all your questions.