Canopy
Efficient and versatile solution for your business
Considering a canopy for your business? Whether it concerns a temporary lack of space or a semi-permanent solution, with these tent canopies you have various possibilities. Curious about the potential applications of our canopies? Interested in key considerations for leasing or renting? Eager to identify materials that can brave various weather conditions? Thanks to our many years of experience, we know exactly what you are looking for. We are therefore happy to help you realize the perfect solution for your company.
The advantages of a canopy from Donselaar Structures
Fast delivery thanks to our large stock
Assembled by professional and certified personnel
Rent, buy or lease your canopy
Can be used temporarily or semi-permanently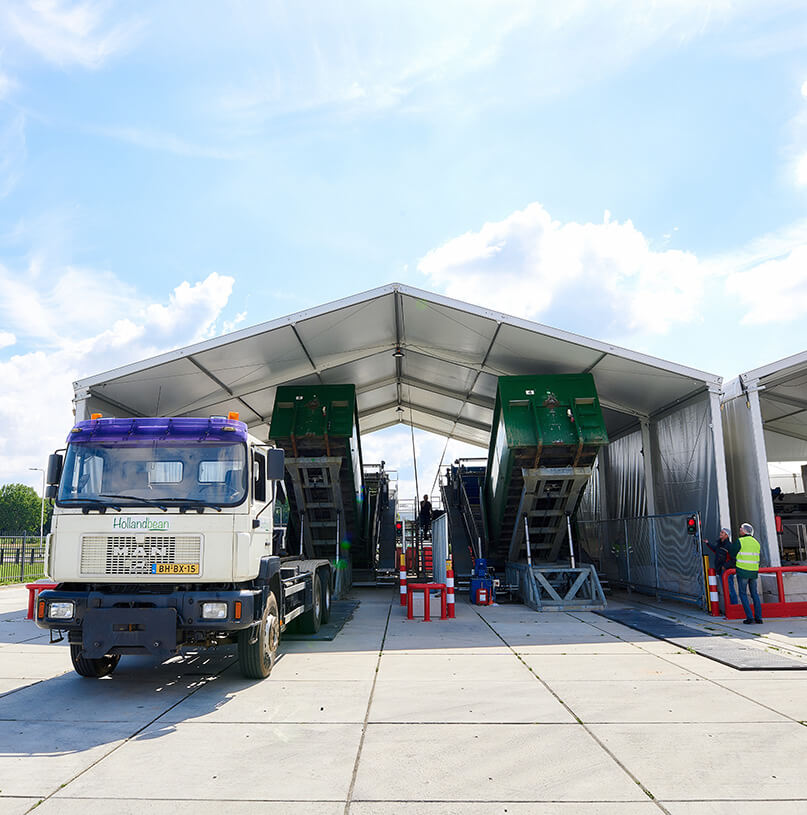 More than 100 companies already benefit from additional business space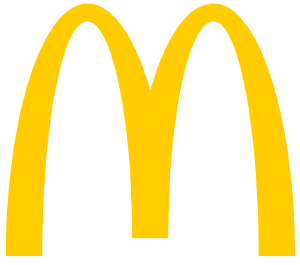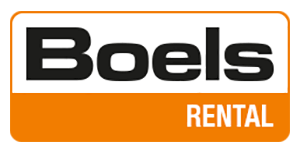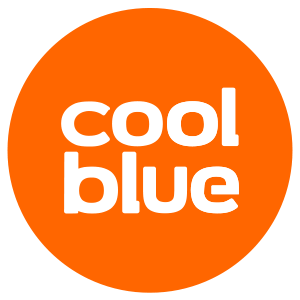 Onze overkappingen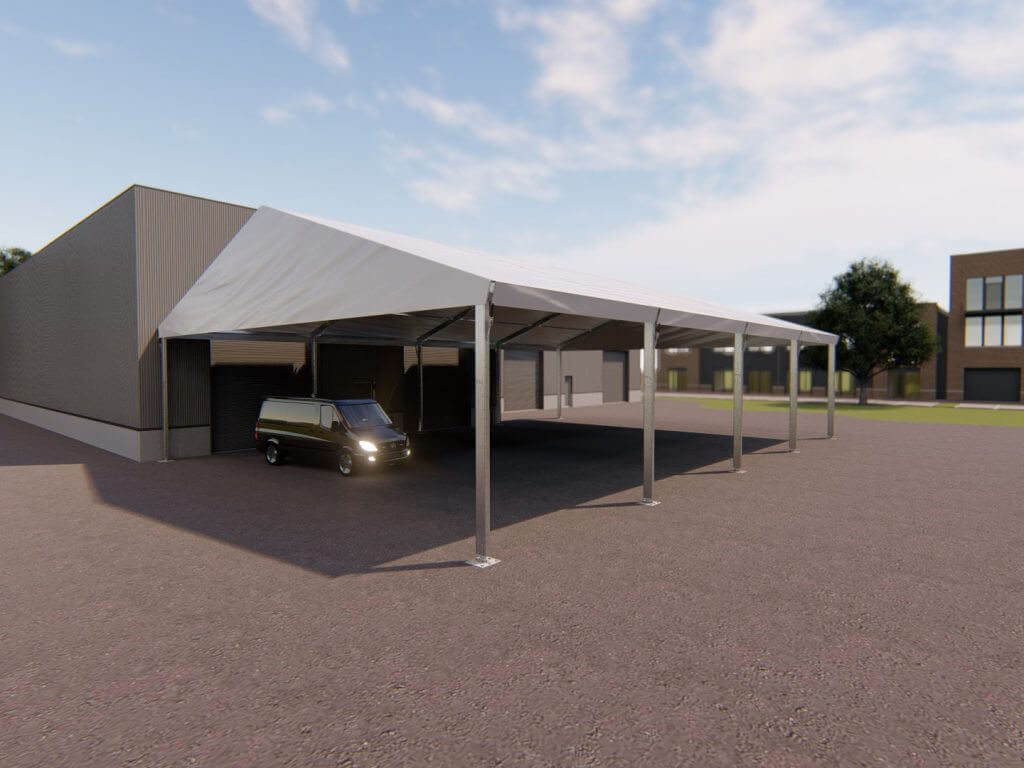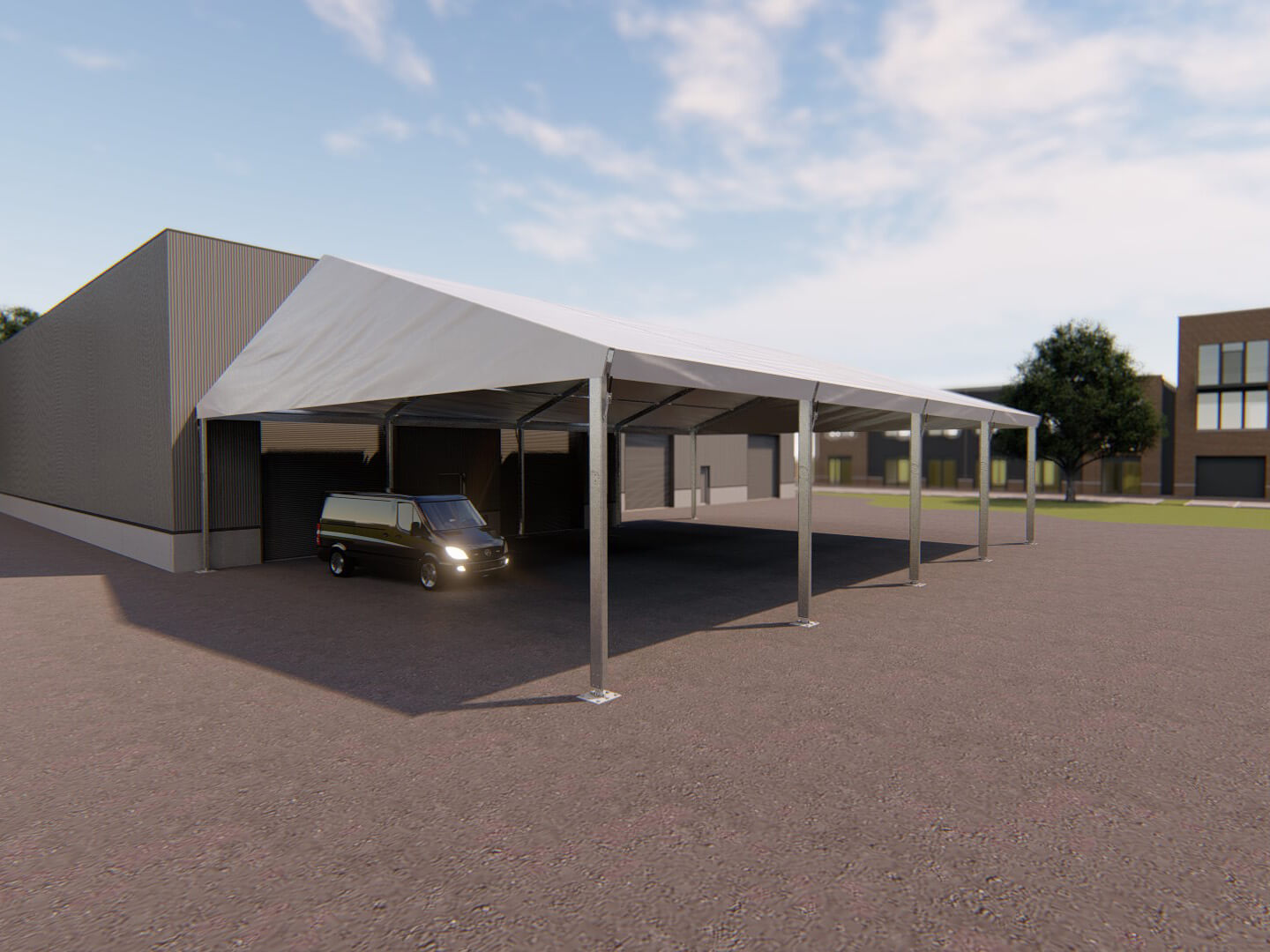 T1 Roofed
Always carry out dry loading, unloading, and operations with our T1.
With a side height of up to 4.5 meters, trucks and trailers can easily pass under the T1.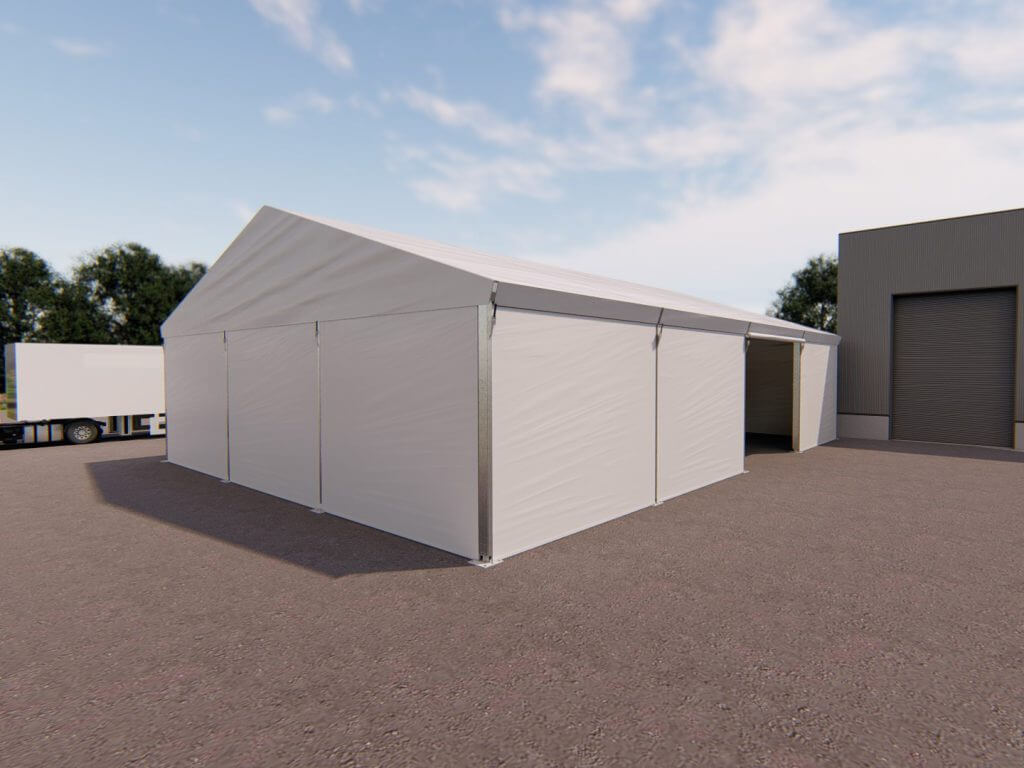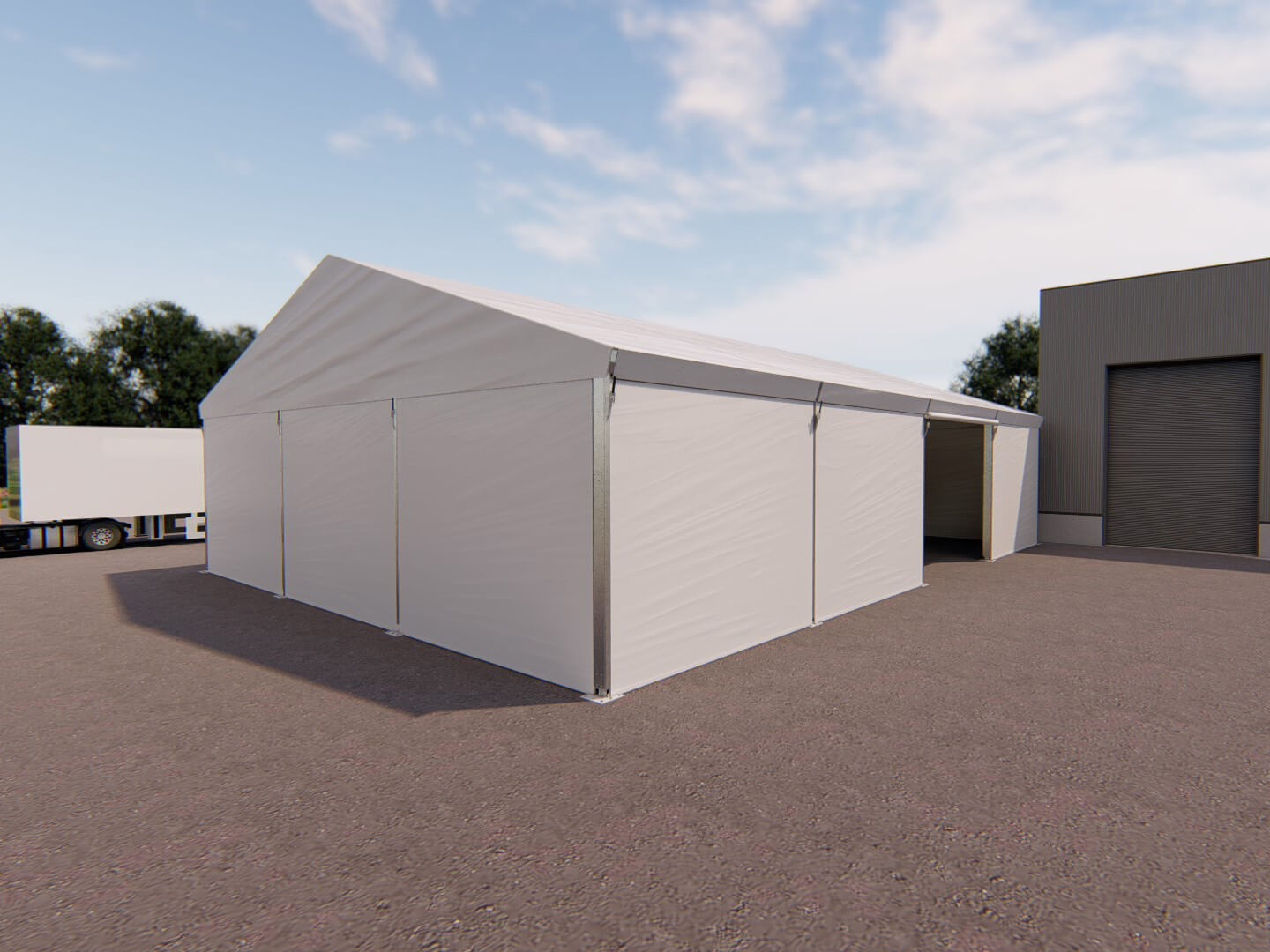 T2 Non-insulated
Do you want to store goods that are not temperature sensitive or want to work out of the wind and rain? Choose the T2 non-insulated tent hall.
Its sturdy roof and robust, secure side panels provide protection from the weather.
An industrial canopy is the versatile solution you are looking for
Do you need extra space for storing goods? Or do you need a dry space for loading and unloading? With an industrial canopy, the possibilities are endless. For example, it is possible to make the canopy so large that trucks can drive under it effortlessly. Curious about the Donselaar Structures canopy? Our T1, the canopy, has already provided the solution for many companies. It can be constructed on practically any surface, due to the optional ballast blocks.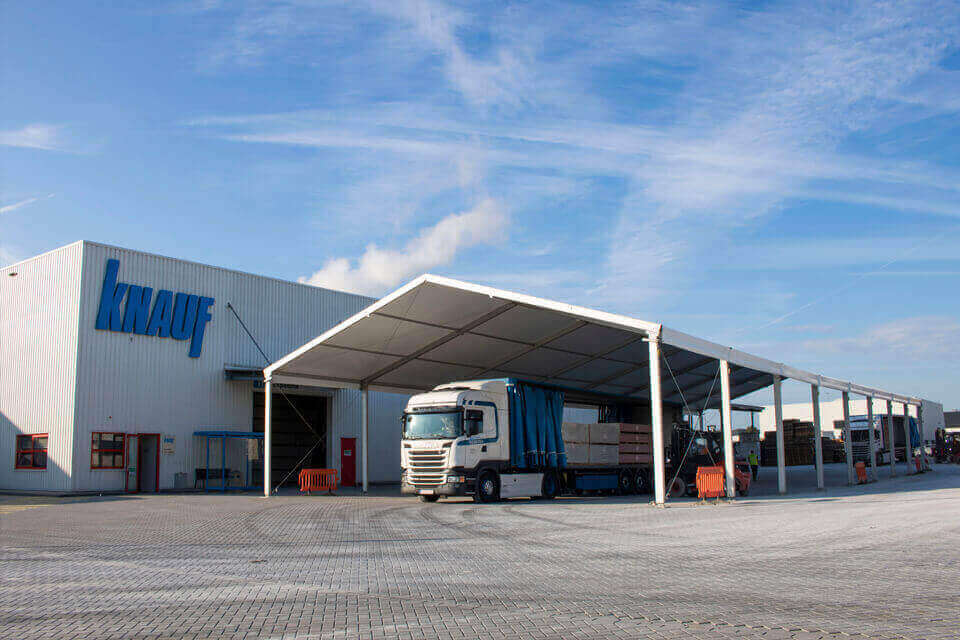 0
years experience in the tent industry
tents, flexible structures and storage spaces installed
9,0
rating from our customers for service and quality
Your fully customised industrial canopy
The big advantage of a canopy from Donselaar Structures? That we make it completely custom-made! With a width of 2.5 metres to a maximum of 25 metres and unlimited extension in length, you can really use your industrial canopy for anything. Thanks to the free span, there are no inconvenient posts under the canopy.
Another advantage is the quick delivery of an industrial canopy. We regularly speak to people who need a quick solution due to a busy period or other unforeseen event. Precisely because we control the entire process we can adapt quickly. The canopy can also be used for many different purposes. For example, the canopy can be placed over swimming pools, tennis courts and skating rinks. Do you need an urgent solution? Then give us a call straight away and we will be happy to help you. Or send us a message via our contact form.
Why choose
Donselaar Structures?
On-site personal advice
We can offer you the best advice by visiting your location in person.
20,000 m² tent halls in stock
Most of our tent halls are readily available from our extensive stock.
Purchase, rental or lease
Rent a tent hall for up to 15 years. Purchasing or leasing options are also available.
We arrange assembly and breakdown
Our tent construction team will construct your tent hall in no time at the location of your choice.
SCC (VCA)* and ISO-9001 certified
Our qualified staff works safely with clear-cut working processes.
Fast permits
Because of the temporary nature of the tent hall, a permit can be arranged in no time.
Proven success of a tent hall
"I experience the collaboration with Donselaar Structures as pleasant, customer-oriented and pragmatic. A neat solution was delivered for us in a short time."
Mark Kleinloog – Tanis Confectionery
"We have achieved what we had in mind in a short period of time and that is only possible if the cooperation runs smoothly!"
Arie van den Broek – Van Ginkel Trucks
"Thanks to fast and clear communication with a good price, we decided to rent this storage tent from Donselaar Structures. After the agreed assembly, a neat storage tent was delivered."
Matthijs van Vliet – HSK Prefab
These
companies

have gone before you!
Rent, lease or buy: whichever suits your business
A canopy for 3 months or 15 years, anything is possible. So if you rent one of our accommodations, you can go either way. Interim extension of the rental period is also always possible.
Are you planning to use an accommodation for a longer period? Then leasing or buying might be an interesting option. Buying a canopy is easy: when you buy, you pay at once. Do you not have the financial means to pay the full amount immediately? Then ask about our leasing options. You are the legal owner right away, but we spread the payment over a longer period.
Would you like non-binding information on the possibilities for your company? Then request a customised quote. We can include purchase, lease and rental options. This makes it easy to find out what is the most suitable option for you. So request your quote today and be amazed at the possibilities for your company!
Discover all our temporary tent halls and storage tents
Wondering what other accommodations we realise? Take a look at our full range. Because the canopies are just the tip of the iceberg! A fully insulated storage hall or even a temporary shop, our team will be happy to arrange it. There are many options when it comes to materials and there are also plenty of extra options. Think of a hall with extra windows or a suitable floor.
Looking for inspiration for your industrial hall or our other accommodations? Then take a look at our projects. Would you like to know more about a particular project or does the accommodation appeal to you? Be sure to let us know when you get in touch!
Any questions? Ask them to our specialists!
Delivering hundreds of different projects has given our specialists a wealth of experience. Because every day, we keep thinking about possible innovations. Our industrial halls and storage tents are therefore the result of our years of progressive thinking. We know exactly what works best in which situation. And of course we are happy to advise you on that!
It is also possible to arrange a site visit. An adviser will then visit you to look at all the possibilities. Great if you are in doubt about the best location for your canopy, for example. And so you can answer all your other questions straight away. So feel free to contact us to schedule a site visit.