Length
Unlimited extension by 5 meter
Side height
4 meter | 5 meter | 6 meter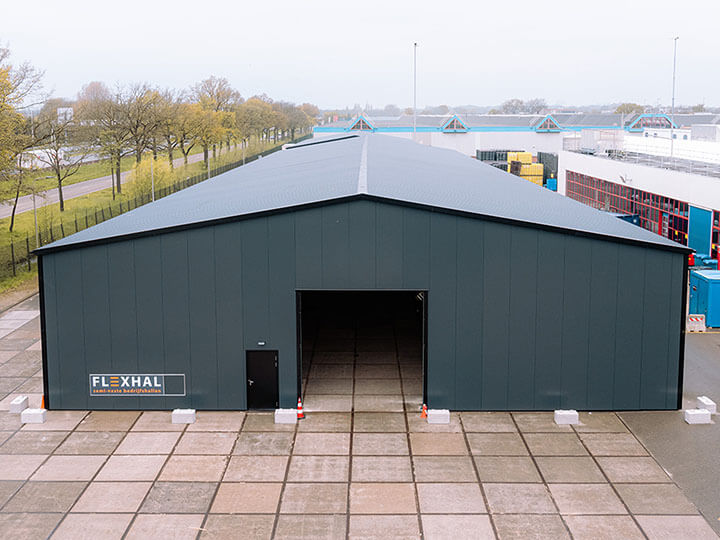 The look of a permanent hall and flexibility of an alu hall
The T5 Flexhal semi-permanent is very similar to a permanent hall, but is a good and quick alternative when you need extra business space. No foundation is required for this hall and the permit application lead time is faster than for permanent construction.
The flexibility of the hall makes it possible to adapt it to the existing building. The framework consists of lightweight Sigma and C steel profiles. Both the walls and the roof consist of sandwich panels, making the flex hall fully insulated.
Companies with a
T5 Flexhal semi-permanent
On-site personal advice
We can offer you the best advice by visiting your location in person.
20,000 m2 tent halls in stock
Most of our tent halls are readily available from our extensive stock.
Purchase, rental or lease
Rent a tent hall for up to 15 years. Purchasing or leasing options are also available.
We arrange assembly and breakdown
Our tent construction team will construct your tent hall in no time at the location of your choice.
SCC (VCA)* and ISO-9001 certified
Our qualified staff works safely with clear-cut working processes.
Fast permits
Because of the temporary nature of the tent hall, a permit can be arranged in no time.
Safety & quality
We prioritize the enjoyment of our staff in their work while maintaining a strong focus on safety. Ensuring a secure work environment is a foundational principle for us, integrated into our business policy, workspaces, and operations.
Structural testing according to NEN-EN 1990 for Flexhal semi-permanent
The T5 Flexhal semi-permanent meets all European established fire and safety requirements and is approved according to DIN standard 4102B1. The T5 is also structurally tested in accordance with NEN-EN 1990 (Buildings Decree of the Netherlands).
SCC certified
Our assembly team is SCC-certified and takes every required safety precaution with high-quality safety materials. Moreover, we invest in training and courses so that we can guarantee both our and your safety.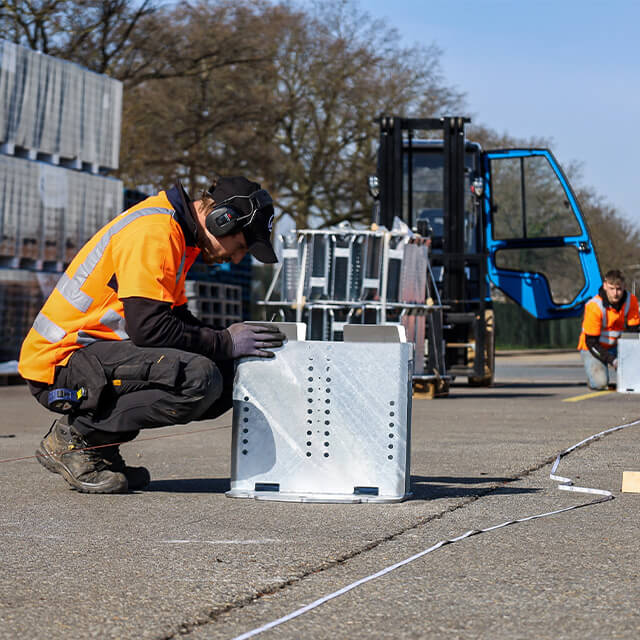 Proven success of a tent hall
"We have achieved what we had in mind in a short period of time and that is only possible if the cooperation runs smoothly!"
Arie van den Broek – Van Ginkel Trucks
"We needed a storage tent very urgently to accommodate an extra production run. I was very pleased with the way I was treated by Donselaar Structures and I was surprised by the very fast delivery and installation. Top!"
Dennis Spierings – Knauf
"Donselaar has supplied a shelter where 5 trucks can stand in the shade. This was done in a great collaboration and in a nice way. Short lines of communication, friendly people, nothing to complain about."
Wyno Harmelink – Ekro
0
years experience in the tent industry
tents, flexible structures and storage spaces installed
9,0
rating from our customers for service and quality
Specifications

T5 Flexhal semi-permanent
Width:
10 - 30 meter

Length:
Can be extended indefinitely in 5-meter segments

Side height:
4 meter | 5 meter | 6 meter

Cold-rolled steel:
450 mm C+ profile

Roof sandwich panels:
Standard: 60 mm | fire resistance EW30 | Rc value 2.61 m² K/W
Optional: 80 mm | fire resistance EW60 | Rc value 3.55 m² K/W
Optional: 100 mm | fire resistance EW30, EI30 | Rc value 4,5 m² K/W

Sandwich panel walls:
Standard: 60 mm | fire resistance EW30 | Rc value 2.61 m² K/W
Optional: 80 mm | fire resistance EW60 | Rc value 3,55 m² K/W
Optional: 100 mm | fire resistance EW30, EI30 | Rc value 3,55 m² K/W

T5 Flexhal is supplied with:
Tent book according to NEN 8020-41
Technical drawings
Fire certificate
Construction drawings

Additional options:
LED lighting
Collision protection
Wicket door(s)
Double wicket door(s)
Roll-up door(s)
Overhead door(s)
Manual sliding door(s)
Windows