Back to the overview
T2 Non-insulated
General
From roofing a construction site to protecting temporary assembly lines: our T2 is a versatile structure. It is a semi-permanent tent hall made from heavy-duty aluminium that can be implemented for both short-term and long-term projects.
Are you looking to store goods that are not temperature-sensitive? Then the T2 is the right choice for you. Our T2 is often used as a temporary warehouse or workspace. Its sturdy roof and robust side panels provide protection from the weather.
Width: 3, 5, 6, 8, 10, 12.5, 15, 20, 30 and 40 metres.
Length: can be extended indefinitely in 5-metre segments
Side height: 1 to 6 metres (variable)
Delivery includes tent book with specifications, fire certification, technical drawings, and structural calculations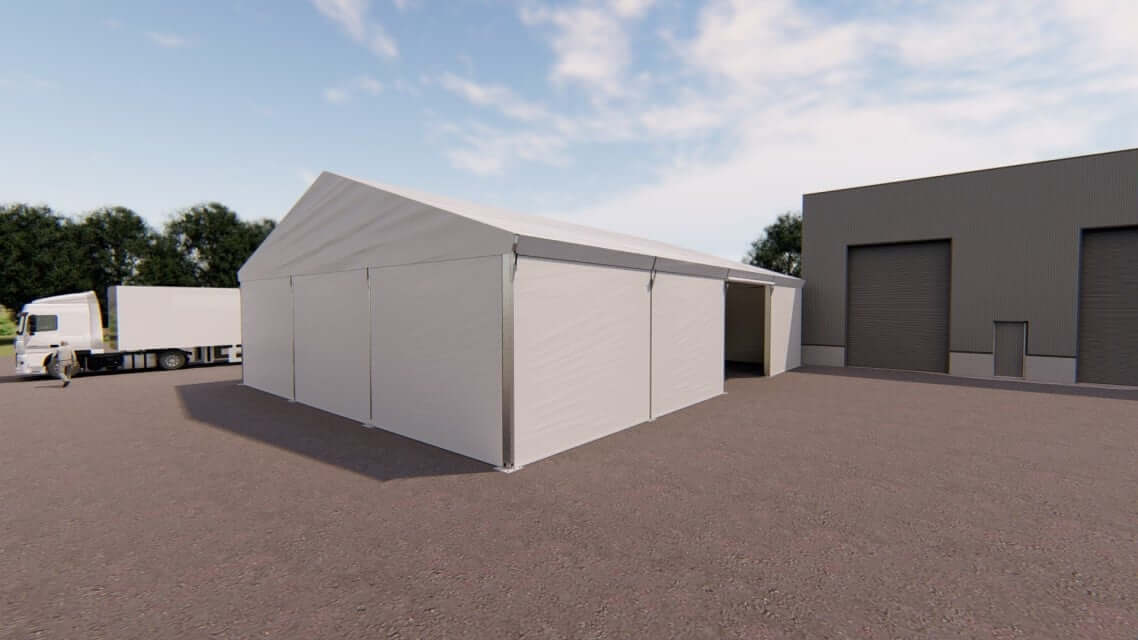 Specifications
All our tents are made from PVC tarpaulin: UV-resistant and fire-retardant according to the following European standards: DIN 4102-B1, M2, BS 5438/7837; USA NFPA701. Our European anodised quality aluminium is classified as 6082T6. We use sandwich panels with a thickness of 40 mm, standard B2–S2–D0 fire classification, insulation value Rc = 1.80 m2.k/W. The steelwork is fabricated according to the NEN-1090 standard.
Roof cladding
Opaque PVC tarpaulin 750 g/m2
UV-resistant and fire-retardant according to European standards
Side cladding
Translucent PVC tarpaulin 600 g/m2
UV-resistant and fire-retardant according to European standards
Aluminium
6082T6 classification
European anodised aluminium
Includes
Base supports and drive pins
Options
Lighting
Collision protection measures
Ballast blocks as alternative anchoring method
Climate control
Flooring systems
Sliding doors and/or roller shutters
Maximum wind load
Safety and quality
We believe it's essential that our staff take pleasure in doing their work, and safety plays a large role. Ensuring a safe work environment is therefore always one of our fundamental principles: in our business policy, our work environment and in our operations.
Tent books following Dutch NEN 8020-41 safety and fire safety standards
Our tents meet all European fire safety and safety standards and are approved according to DIN 4102B1 standards. The tents also come with a tent book from Tentech (per Dutch NEN 8020-41 safety and fire safety standards) containing all the tent specifications, including all structural calculations and technical information.
SCC-certified
Our assembly team is SCC-certified and takes every required safety precaution with high-quality safety materials. Moreover, we invest in training and courses so that we can guarantee both our and your safety.
Tent books following Dutch NEN 8020-41 safety and fire safety standards
Technical drawing
Fire certificate
Structural calculations