Length
Unlimited extension in 5-meter segments
Side height
2.3 meter | 3 meter | 4.5 meter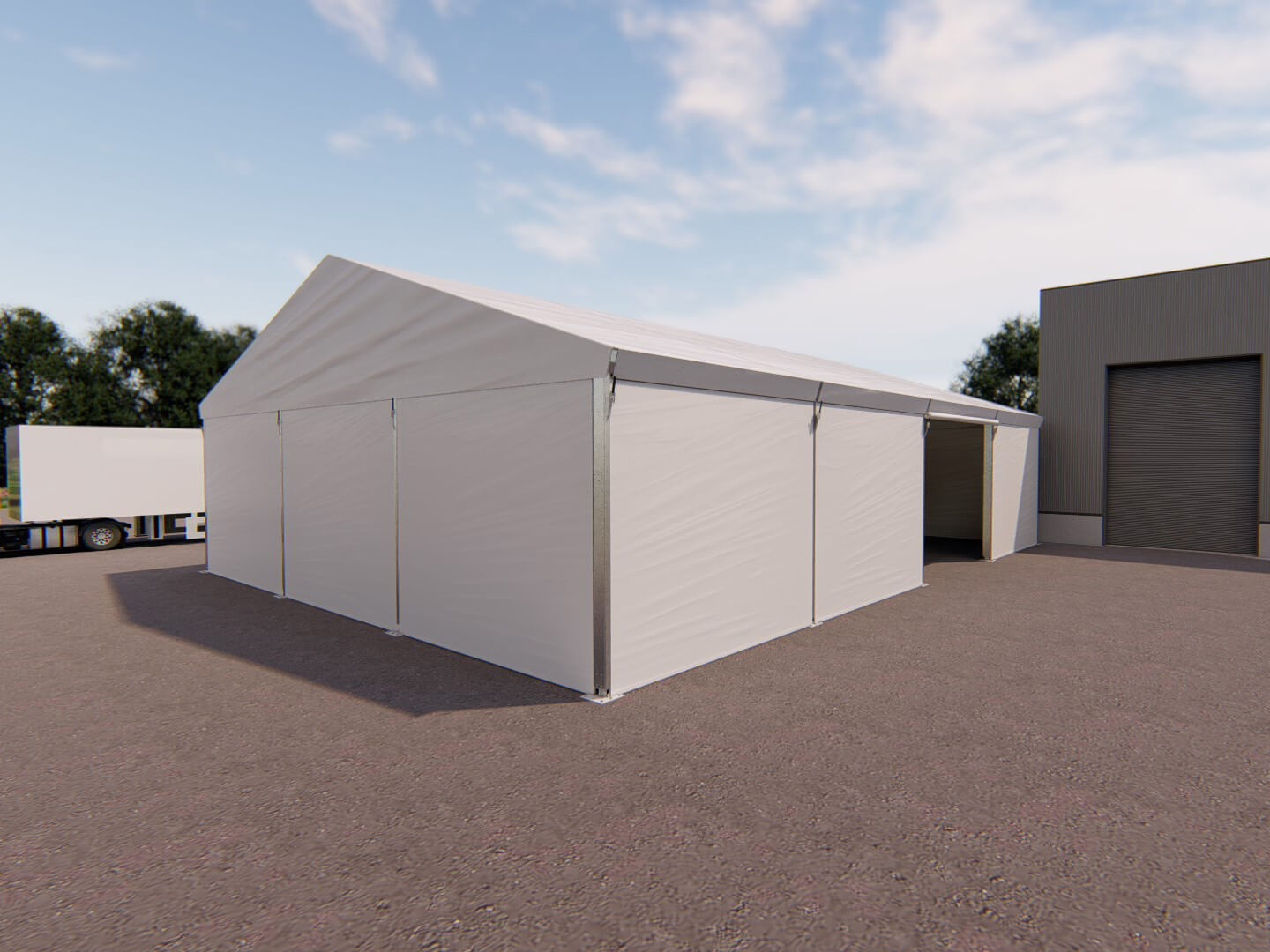 A versatile tent that provides weather protection
The T2 Non-insulated tent hall is widely used to cover construction and workshop areas, but is also suitable as a showroom. This tent offers protection from weather and wind due to the closable side walls.
This tent is very suitable for storing goods and carrying out work that is not temperature sensitive. The T2 Non-insulated tent hall comes standard without floor and doors, but it is certainly possible to give this tent additional options. Think of an electric rolling door, lighting and collision protection.
Companies with a
T2 Non-insulated
On-site personal advice
We can offer you the best advice by visiting your location in person.
20,000 m² tent halls in stock
Most of our tent halls are readily available from our extensive stock.
Purchase, rental or lease
Rent a tent hall for up to 15 years. Purchasing or leasing options are also available.
We arrange assembly and breakdown
Our tent construction team will construct your tent hall in no time at the location of your choice.
SCC (VCA)* and ISO-9001 certified
Our qualified staff works safely with clear-cut working processes.
Fast permits
Because of the temporary nature of the tent hall, a permit can be arranged in no time.
Safety and quality
We prioritize the enjoyment of our staff in their work while maintaining a strong focus on safety. Ensuring a secure work environment is a foundational principle for us, integrated into our business policy, workspaces, and operations.
Tent books in accordance with the Dutch NEN 8020-41 standard
Our tents meet all European fire safety and safety standards and are approved according to DIN 4102B1 standards. The tents are provided with a tent book, in compliance with Dutch NEN 8020-41 safety standards, containing all structural calculations and technical information.
SCC-certified
Our assembly team is SCC-certified and takes every required safety precaution with high-quality safety materials. Moreover, we invest in training and courses so that we can guarantee both our and your safety.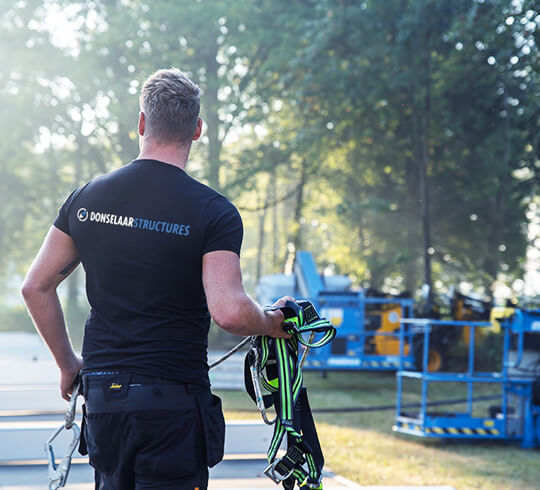 Proven success of a tent hall
"Quality, service, fair price and great communication."
Joost Munsterman – Intratuin Emmeloord
"Good company that can deliver and switch quickly."
Henk Haaksema – Solarcentury
"Thanks to fast and clear communication with a good price, we decided to rent this storage tent from Donselaar Structures. After the agreed assembly, a neat storage tent was delivered."
Matthijs van Vliet – HSK Prefab
0
years experience in the tent industry
tents, flexible structures and storage spaces installed
9,0
rating from our customers for service and quality
Specifications

T2 Non-insulated
The T2 Non-insulated is equipped with PVC tarpaulin as standard: European UV-resistant and fire-retardant according to DIN 4102-B1, M2, BS 5438/7837; USA NFPA701. Our aluminium features the high quality grade 6082T6 and is European anodised. The steelwork used is welded to the NEN-1090 standard.
Width:
2,5 - 30 meter

Length:
Can be extended indefinitely in 5-meter segments

Side height:
2,3 meter | 3 meter | 4,5 meter

Aluminium quality:
Quality class 6082T6

Roof cladding:
Standard: Opaque roof canvas | 750 gr/m² | White
Optional: Transparent roof tarpaulin | 610 gr/m²
Optional with purchase: Opaque roof tarpaulin | 750 gr/m² | Color of your choice
Optional with purchase: Translucent roof tarpaulin | 650 gr/m² | White translucent

Side wall cladding:
Standard at side height 2.3 meters: Translucent tarpaulin | 600 gr/m² | Non UV-resistant | White
Standard at side height 3 & 4.5 meters: Opaque tarpaulin | 750 gr/m² | UV-resistant | White
Optional: Transparent tarpaulin | 610 gr/m² | Not UV-resistant
Optional with purchase: Opaque roof tarpaulin | 750 gr/m² | UV-resistant | Color of your choice

Facade cladding:
Standard: Opaque facade tarpaulin | 750 gr/m² | UV-resistant | White
Optional: Transparent facade tarpaulin | 610 gr/m² | Non UV resistant
Optional: Facade printing on tarpaulin | 750 gr/m² | UV-resistant | Print of your choice
Optional with purchase: Opaque facade tarpaulin | 750 gr/m² | UV-resistant | Color of your choice

Floor:
Standard: No floor
Optional: System floor | max. weight per m² - 600 kg
Optional: Casette floor | max weight per m² - 600 kg
Optional: Concrete slabs | max. weight per m² - 7500 kg

T2 Non-insulated comes with:
Tent book according to NEN 8020-41
Technical drawings
Fire certificate
Construction calculation

Additional options:
LED lighting
Collision protection
Ballast blocks as alternative anchoring method