Suitable alu hall for every business situation
Do you require additional storage space, need to shield your loading area, or seek a temporary (insulated) showroom? In these, and various other scenarios, investing in an aluminium hall is the ideal solution. We offer an extensive range of sizes, catering to needs spanning from 150 square meters to vast halls encompassing hundreds of square meters.
Why opt for an aluminium hall?
Complete customizability and expandability.
Standard profiles are available from stock.
From canopy to fully insulated aluminium halls.
Numerous additional options, including rigid walls, windows, and doors.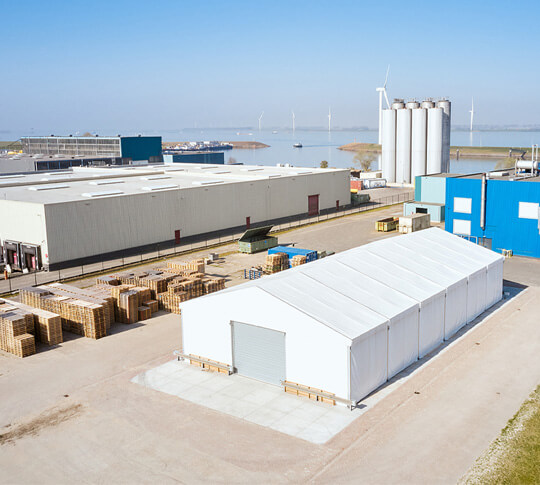 More than 100 companies already benefit from additional business space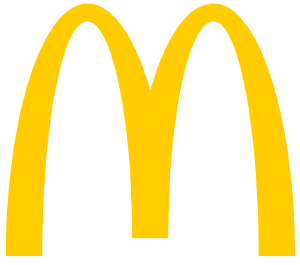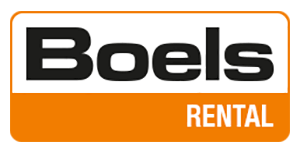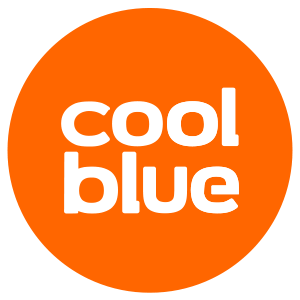 Onze aluhallen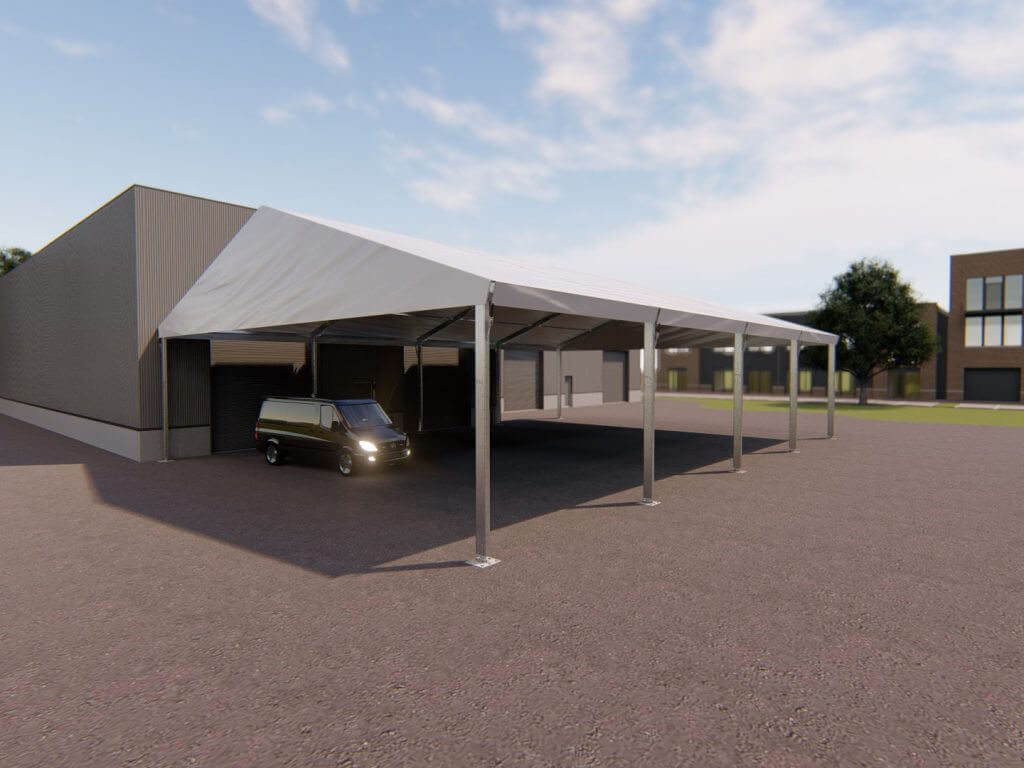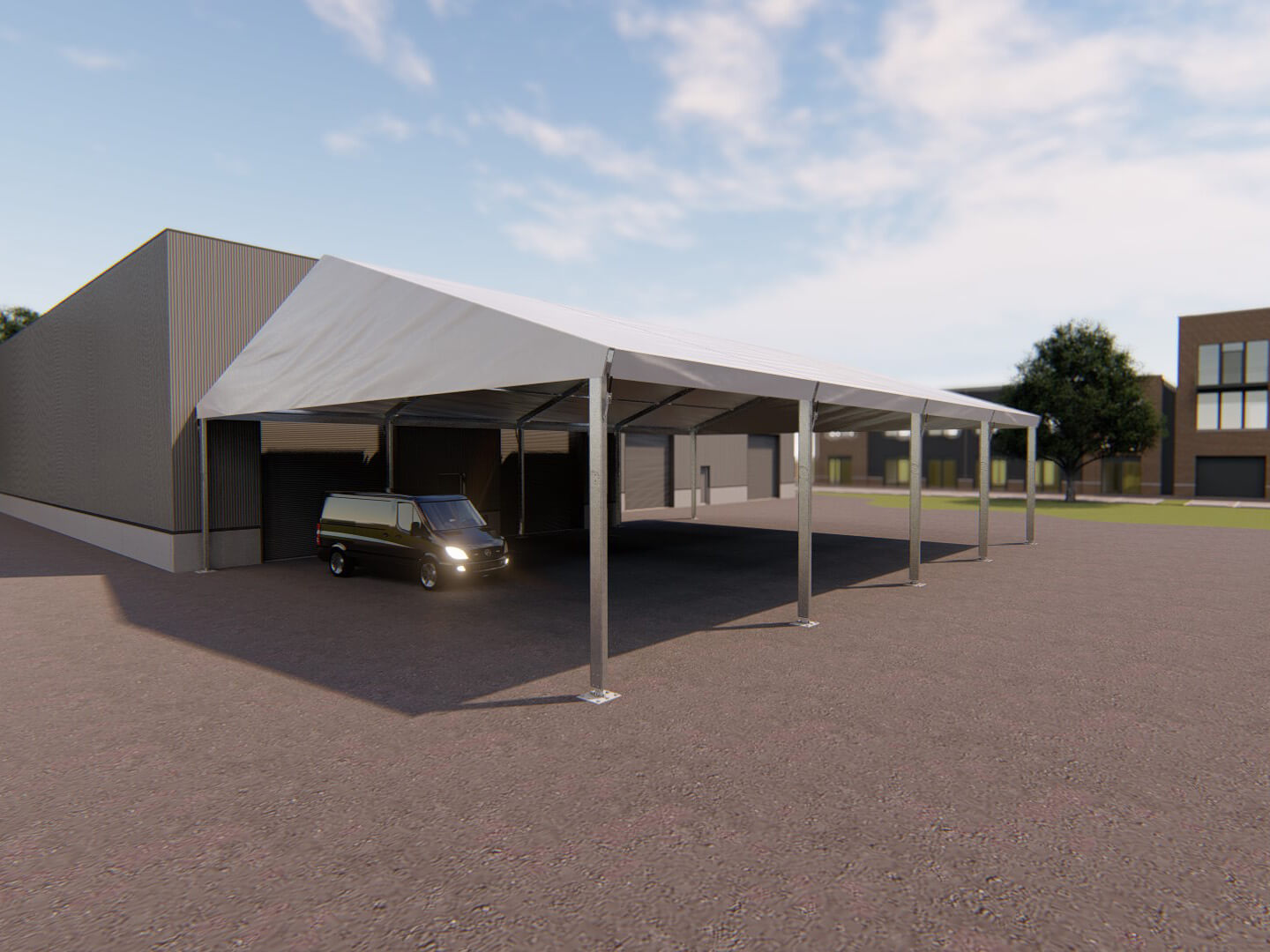 T1 Roofed
Always carry out dry loading, unloading, and operations with our T1.
With a side height of up to 4.5 meters, trucks and trailers can easily pass under the T1.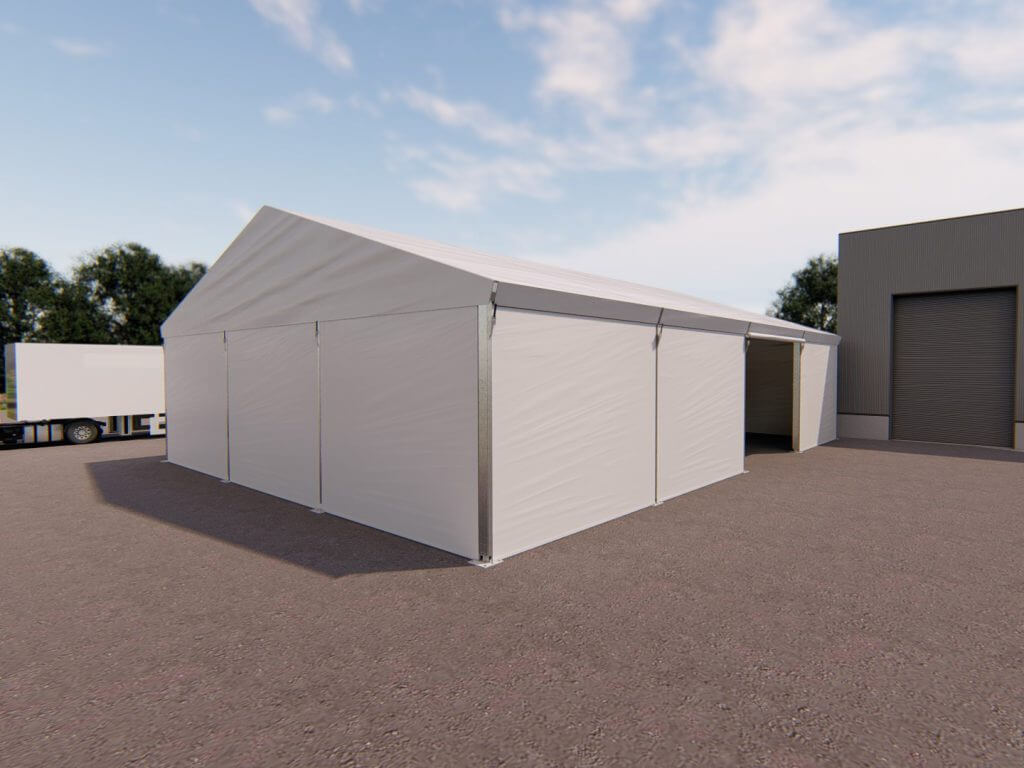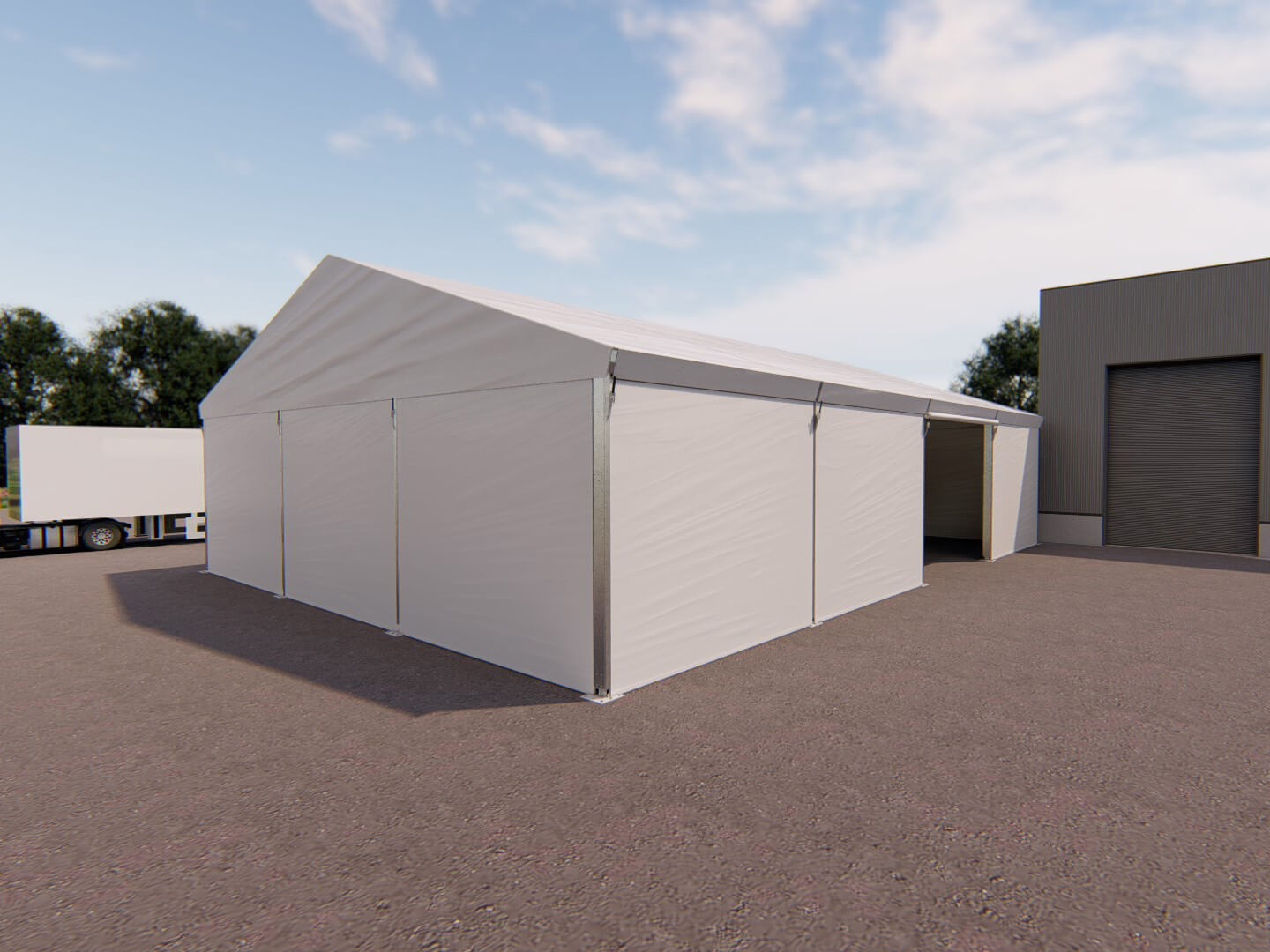 T2 Non-insulated
Do you want to store goods that are not temperature sensitive or want to work out of the wind and rain? Choose the T2 non-insulated tent hall.
Its sturdy roof and robust, secure side panels provide protection from the weather.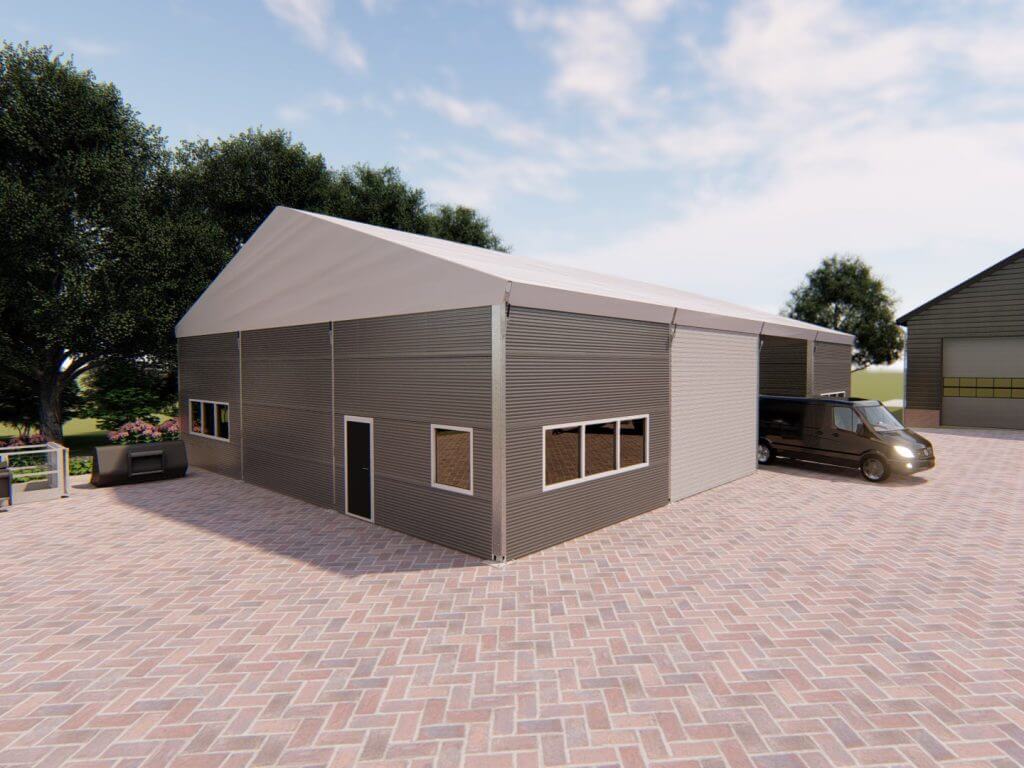 T3 Partially insulated
The T3 is ideal for expanding sales areas or protecting goods and machines.
This tent hall can easily be sealed off with its sandwich side panels.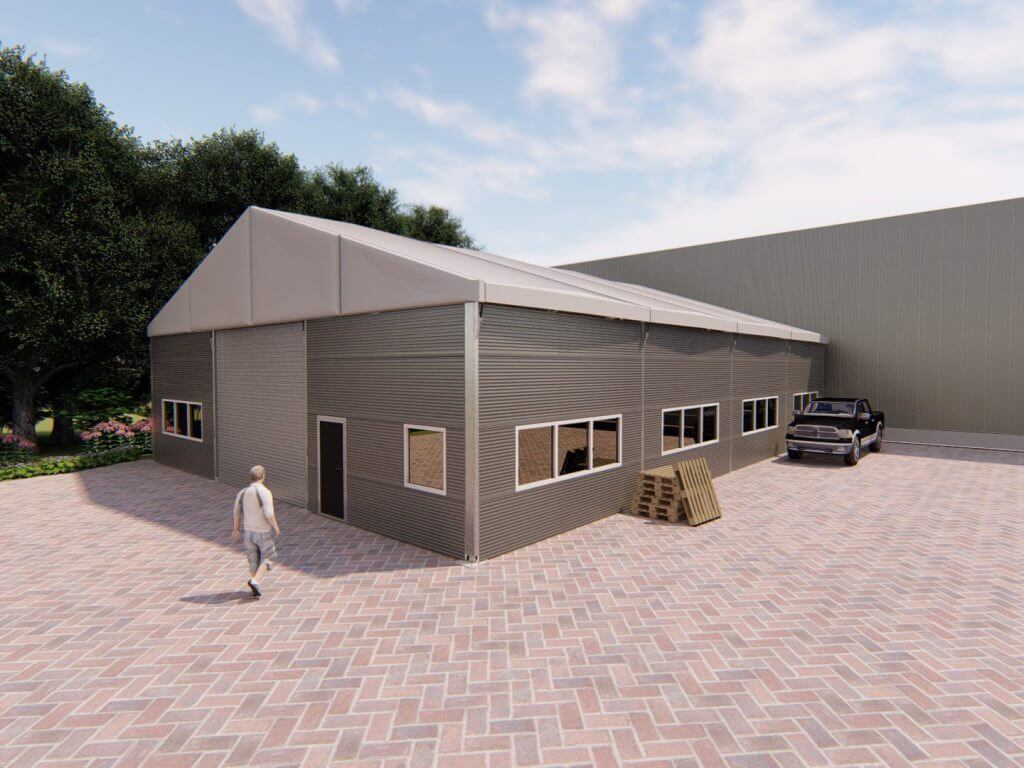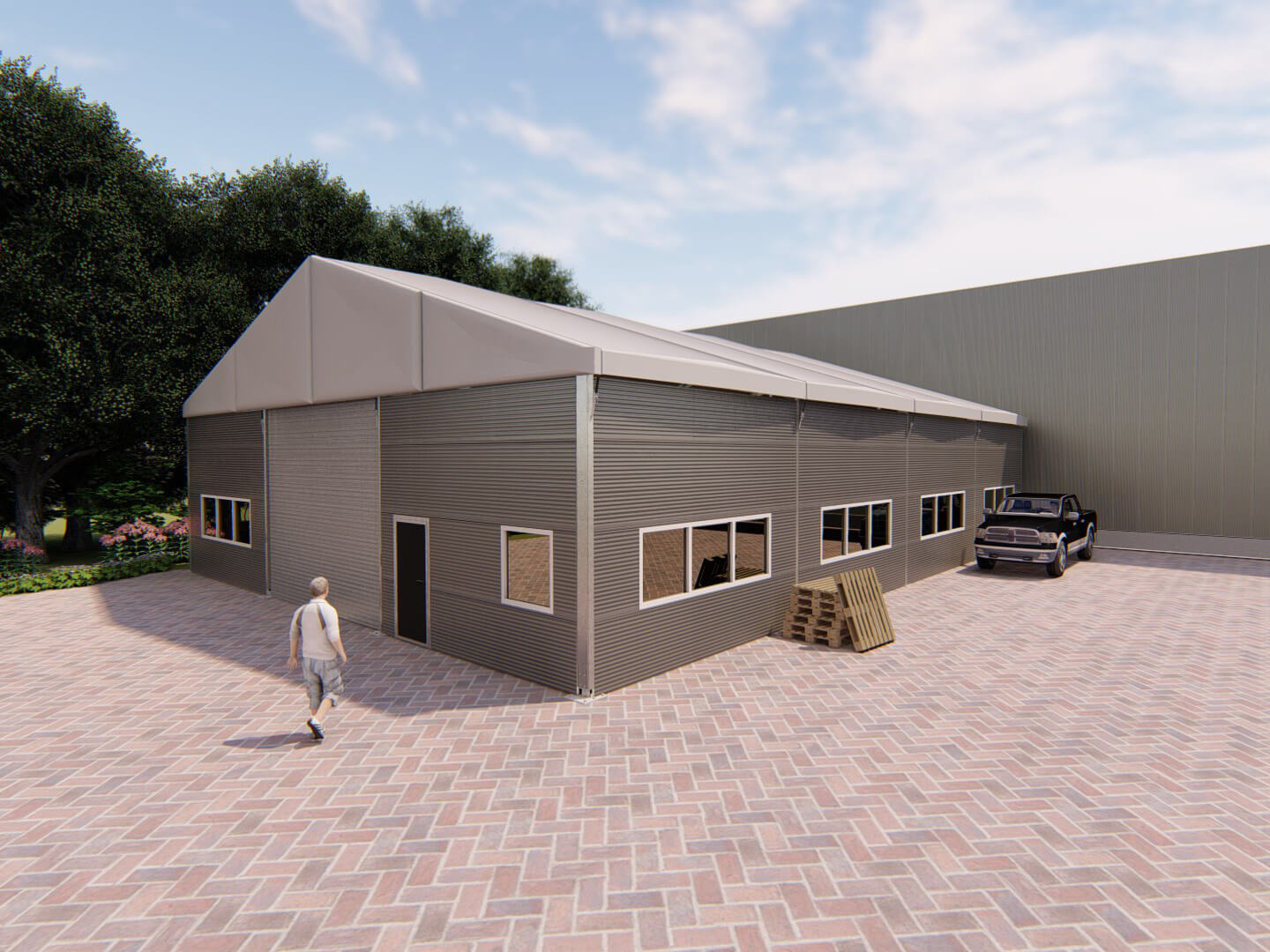 T4 Fully insulated
With the T4, condensation water is no longer an issue, making it perfect as a temporary office space.
The fully insulated T4 is also suitable for storing temperature-sensitive goods.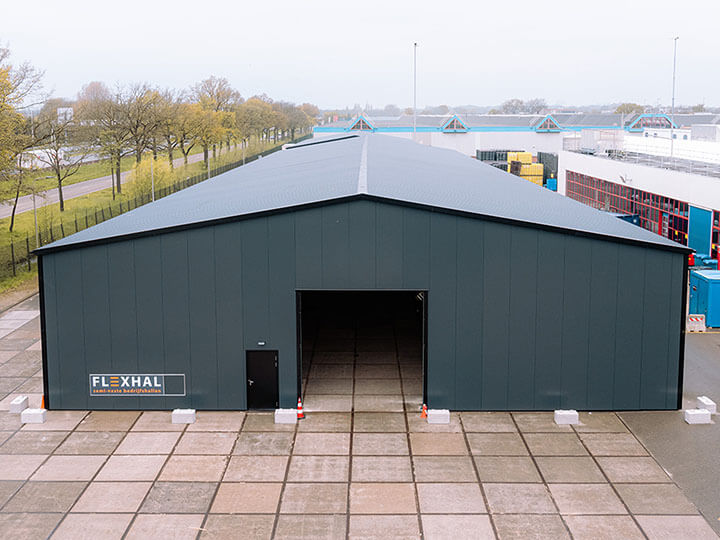 T5 Flexhal semi-permanent
The look of a permanent hall and flexibility of a tented hall. That's the T5 Flexhal.
Its temporary nature makes the lead time for a permit much quicker and easier to arrange.
Buying, leasing or renting a versatile alu hall?
There are various ways to benefit from all the advantages of our alu halls. At Donselaar Structures, you can buy, lease or rent your hall.
Renting an aluminium hall
You can rent an aluminium hall from 52 weeks up to 15 years. The quote provides you with a weekly rental price for various rental periods. It's also possible to extend the rental period on an interim basis.
For rental periods of up to 2 years, renting is often more attractive than purchasing. However, if you do plan to keep the hall for a longer time, you always have the option to buy it.
Buying or leasing
Do you expect to use the aluminium hall for over 2 years, or even semi-permanently? In that case, buying or leasing an aluminium hall can be a highly interesting solution. This is often more cost-effective than renting for an extended period.
Purchasing an entire tent hall is a significant investment, one that you might not always be able or willing to make all at once. We also offer you the option of leasing. This way, you do own the tent, but you pay it off monthly, spreading the cost over time rather than in a lump sum.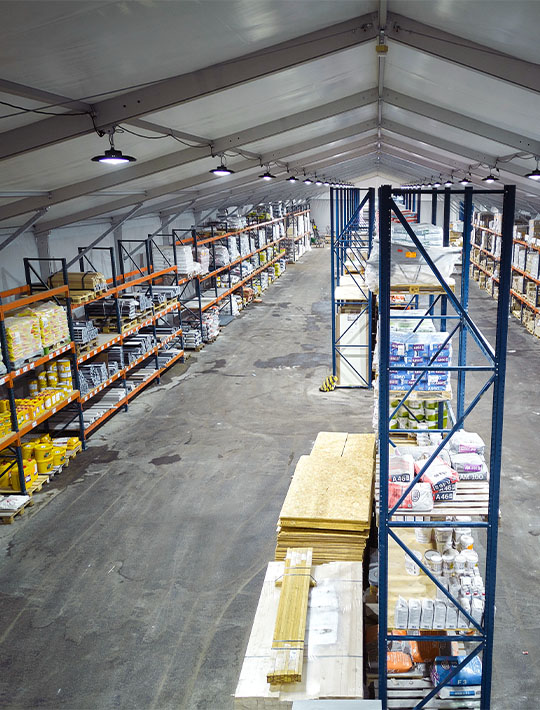 0
years experience in the tent industry
tents, flexible structures and storage spaces installed
9,0
rating from our customers for service and quality
Your alu hall, fully customised
An alu hall from Donselaar Structures can be completely customized according to your preferences. You determine the width, depth, and height of the hall. Alu halls up to 40 meters wide have a clear span, meaning no poles obstruct the interior, maximizing space usage. The length of the hall can be extended by increments of 5 meters without limit. When purchasing a tent, you can specify the height, with our alu halls reaching heights of up to 6 meters.
In addition to our standard models showcased on our website, we also make custom-made alu halls. Do you desire extra windows, doors, heating, lighting, power outlets, or a specialized flooring system? All these options are available to fully equip the hall. We can even tailor a proposal for L or U-shaped configurations. With streamlined communication with the manufacturer, we maintain flexibility in hall design.
Why choose
Donselaar Structures?
On-site personal advice
We can offer you the best advice by visiting your location in person.
20,000 m2 tent halls in stock
Most of our tent halls are readily available from our extensive stock.
Purchase, rental or lease
Rent a tent hall for up to 15 years. Purchasing or leasing options are also available.
We arrange assembly and breakdown
Our tent construction team will construct your tent hall in no time at the location of your choice.
SCC (VCA)* and ISO-9001 certified
Our qualified staff works safely with clear-cut working processes.
Fast permits
Because of the temporary nature of the tent hall, a permit can be arranged in no time.
Proven success of a tent hall
"We have achieved what we had in mind in a short period of time and that is only possible if the cooperation runs smoothly!"
Arie van den Broek – Van Ginkel Trucks
"We needed a storage tent very urgently to accommodate an extra production run. I was very pleased with the way I was treated by Donselaar Structures and I was surprised by the very fast delivery and installation. Top!"
Dennis Spierings – Knauf
"Quality, service, fair price and great communication."
Joost Munsterman – Intratuin Emmeloord
These
companies

have gone before you!
Aluminium hall with a long lifespan
Our aluminium halls have a lifespan of approximately 15 years. The best materials are used in the production of our aluminium halls. Not only the materials ensure that the hall has a long lifespan. Our skilled assembly teams ensure safe and optimal construction. They ensure that every aluminium hall becomes a safe business space, workshop or room for refugees.
Our tent halls comply with European fire and safety requirements and are approved according to DIN standard 4102B1. In addition, each alu hall is supplied with its own tent book, compiled in accordance with NEN 8020-41. This contains all technical information, including the structural calculations of the alu hall.
Quickly using your new alu hall
By overseeing production, planning, and assembly, we provide competitive prices for our high-quality structures. In addition, we have many tent profiles in stock and can start assembly at your site at short notice. Assembly of an aluminium hall takes 2 to 5 days, depending on the size.
Curious about our offerings? You can request an obligation-free quotation, offering a comprehensive price estimate for your preferences. No commitment is required at this stage, but you'll receive a clear price indication. Need further details? Our advisors are available on business days from 08:00 to 17:00 to address your inquiries. Contact us here!