Quick-build warehouse
Simple construction, fast on site
At Donselaar Structures, our goal is to provide perfect solutions that align seamlessly your unique needs. Our quick-build warehouses are manufactured with meticulous care, using premium materials and advanced techniques to ensure longevity and reliability for your valuable assets and vehicles. The construction process eliminates the need for a foundation, leading to significant cost savings. Want to know more about how our quick-build warehouses can meet your requirements? Feel free to contact us!
Advantages of a quick-build warehouse
Quicker permit approvals compared to permanent structures
Fully equipped with doors, windows and gutters
Can be modified and extended as required
Assembled on your site within a week
Structural testing according to NEN-EN 1990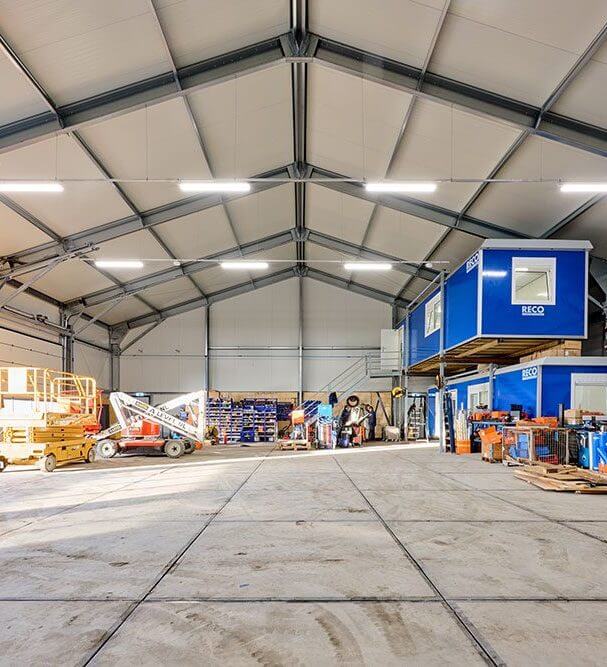 More than 100 companies already benefit from additional business space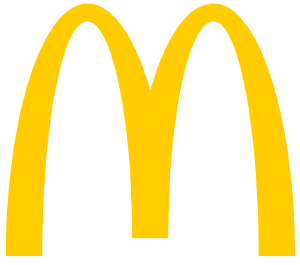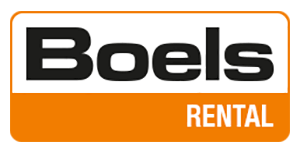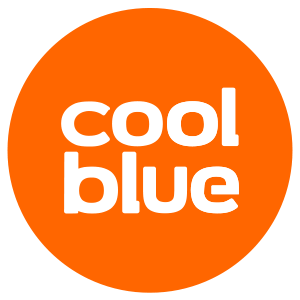 Onze snelbouwloodsen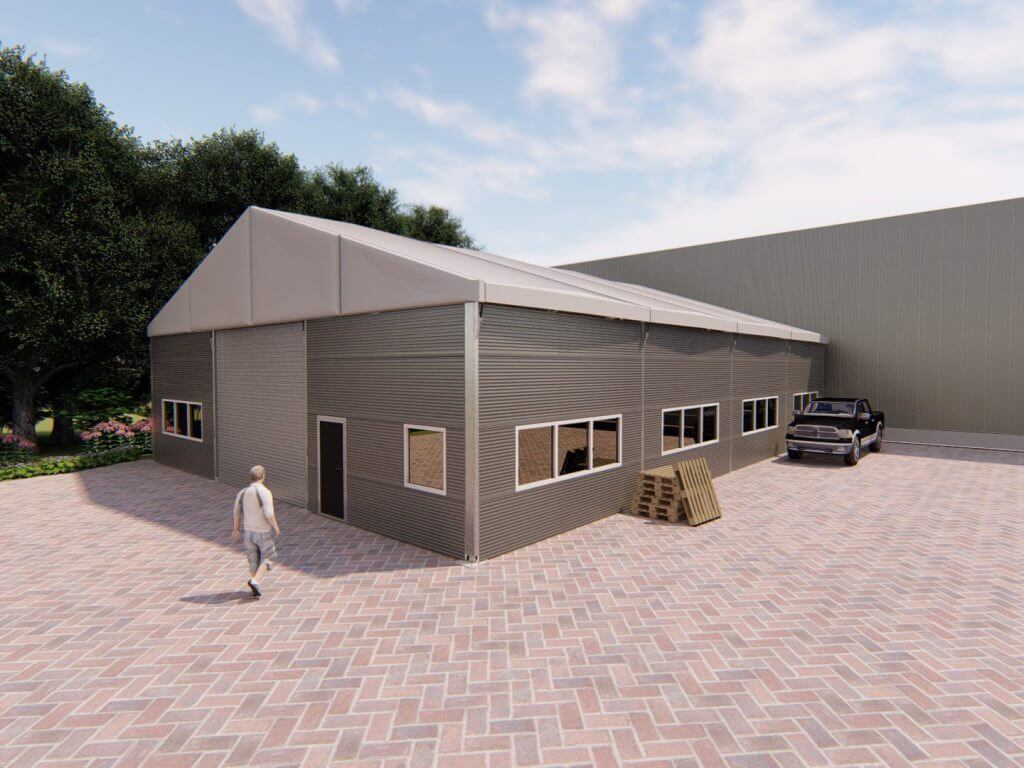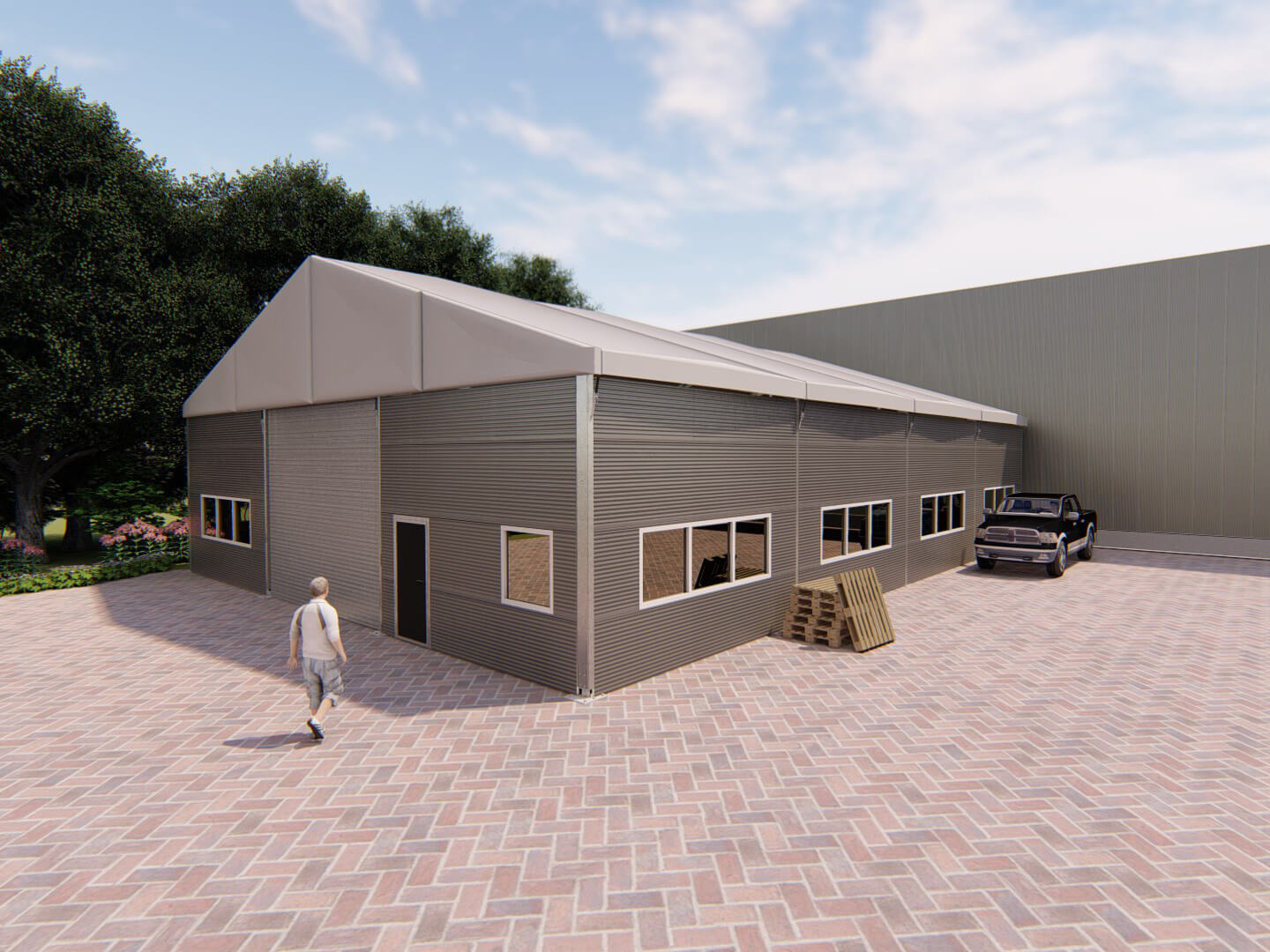 T4 Fully insulated
With the T4, condensation water is no longer an issue, making it perfect as a temporary office space.
The fully insulated T4 is also suitable for storing temperature-sensitive goods.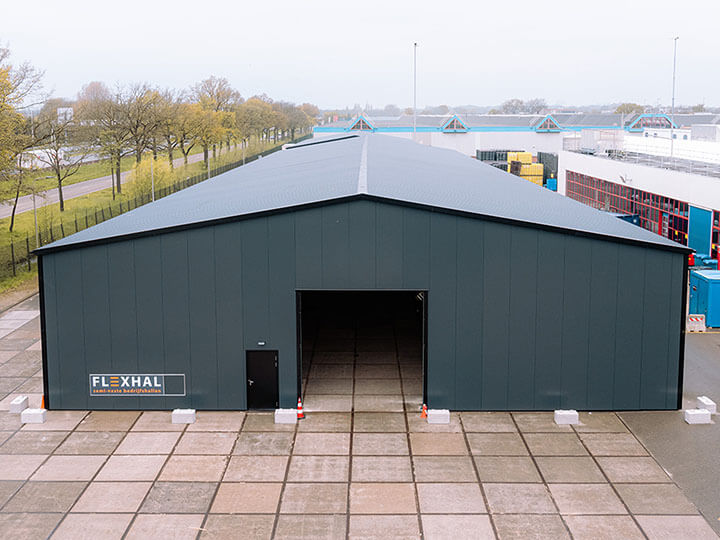 T5 Flexhal semi-permanent
The look of a permanent hall and flexibility of a tented hall. That's the T5 Flexhal.
Its temporary nature makes the lead time for a permit much quicker and easier to arrange.
The lightweight quick-build warehouse adapted to your site
Our quick-build warehouses are designed for swift and simple assembly, eliminating the need for a traditional concrete foundation. Through innovative construction techniques, we achieve a sturdy and stable structure, bypassing the necessity for excavation work. This efficiency translates to both time and cost savings during construction, without compromising on quality and durability.
A modular design
Our industrial halls are all constructed using a modular design. This flexible system enables adjustments in size and configuration tailored to your unique needs. For instance, our industrial halls range from 10 to 30 metres in width and can be expanded indefinitely in 5-metre increments.
No foundation required
Even without a conventional foundation, our quick-build warehouses meet the required standards for stability and safety. We ensure that the structure is firmly anchored to the ground and resistant to weather conditions, keeping your goods and property safely stored.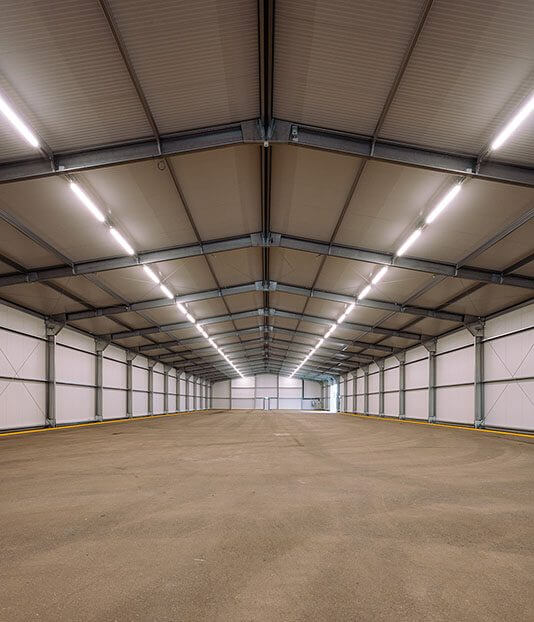 0
years experience in the tent industry
tents, flexible structures and storage spaces installed
9,0
rating from our customers for service and quality
Less strict permit requirements
A quick-build warehouse is considered a temporary structure. An environmental permit is required, but the requirements for this are less strict in most cases. However, factors like the size, location, and purpose might influence this.
During the permit application process for a quick-build warehouse, you'll need various documents: construction drawings, technical specifications, and a purpose description. It's crucial to furnish accurate and comprehensive information. At Donselaar Structures, we supply the appropriate documentation, facilitating a hassle-free permit acquisition process.
Why choose
Donselaar Structures?
On-site personal advice
We can offer you the best advice by visiting your location in person.
20,000 m2 tent halls in stock
Most of our tent halls are readily available from our extensive stock.
Purchase, rental or lease
Rent a tent hall for up to 15 years. Purchasing or leasing options are also available.
We arrange assembly and breakdown
Our tent construction team will construct your tent hall in no time at the location of your choice.
SCC (VCA)* and ISO-9001 certified
Our qualified staff works safely with clear-cut working processes.
Fast permits
Because of the temporary nature of the tent hall, a permit can be arranged in no time.
Proven success of a tent hall
"We needed a storage tent very urgently to accommodate an extra production run. I was very pleased with the way I was treated by Donselaar Structures and I was surprised by the very fast delivery and installation. Top!"
Dennis Spierings – Knauf
"I experience the collaboration with Donselaar Structures as pleasant, customer-oriented and pragmatic. A neat solution was delivered for us in a short time."
Mark Kleinloog – Tanis Confectionery
"Thanks to fast and clear communication with a good price, we decided to rent this storage tent from Donselaar Structures. After the agreed assembly, a neat storage tent was delivered."
Matthijs van Vliet – HSK Prefab
These
companies

have gone before you!
Quick-build warehouse as storage or temporary office
You can use the quick-build warehouse for multiple purposes. Due to the steel profile and the sandwich panel roof and wall cladding, this warehouse is also very suitable as a temporary office, workshop and storage. The warehouse is fully insulated, so a pleasant working climate can be created or temperature-sensitive goods can be stored at the desired temperature. Be sure to take a look at the warehouse that we have built at Wemmers Transport or the storage units for Van Leeuwen Vastgoed.
Request a quote
Are you interested in our quick-build warehouse? Request a no-obligation quote today! We list all costs, for both the rental, purchase and lease option. This way you have a good idea of what the best financial option is for you.
Do you need some more information first or do you have any questions? Feel free to contact our advisors or take a look at the frequently asked questions!